RecommendFacebook Twitter LinkedIn
Hans-Dieter Schumacher
Hans-Dieter Schumacher has been Chief Financial Officer (CFO) of JENOPTIK AG since April 1, 2015. His appointment has been extended with effect from April 1, 2018 until March 31, 2023.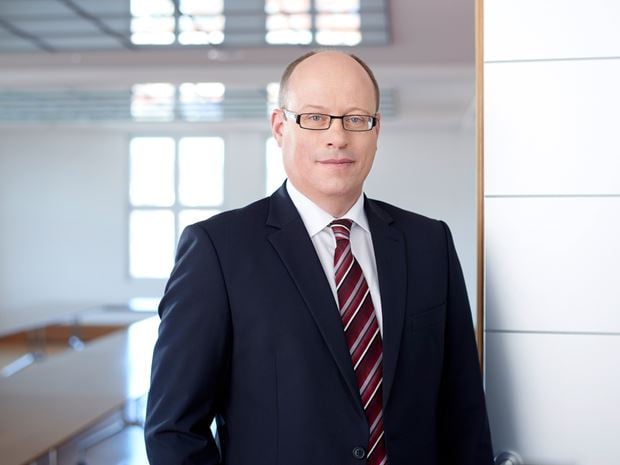 Executive responsibilities
Finance & Controlling (Corporate & Divisional)
Treasury
Tax
IT & Data Security
Real Estate, EHS (Environment, Health, Safety)
Internal Audit
Vita
Hans-Dieter Schumacher was born in Saarburg in 1963.
He majored in business management from 1985 to 1990 at the University of Mannheim.
After completing his studies, Hans-Dieter Schumacher started work as a trainee in the Finance division of Villeroy & Boch AG. There, he worked both in Controlling and in Corporate Auditing. In 1995, he moved to Mannesmann Handel AG and was promoted to Department Head of Planning and Controlling and to Head of Business Management. After a short time with the SULO Group, in 1999 he became the Division Head of Finance and Controlling at Aesculap AG, a medical technology company that is part of B. Braun Melsungen AG.
In 2003, Hans-Dieter Schumacher was appointed the Financial Director of Sto AG, which found itself in a difficult situation due to the crisis in the construction industry at the time. As part of an extensive value augmentation and restructuring program, the continued existence of the company was ensured and a continuous phase of profitable growth ensued.
In January 2011, Schumacher was appointed the Chief Financial Officer and Labor Director of the HOMAG Group AG. During his engagement with HOMAG, he was able to work with his colleagues on the Board of Directors to bring the company back to a course of continuous, profitable growth and significantly increase revenue.
Hans-Dieter Schumacher left the HOMAG Group AG at his own request after its acquisition by Dürr AG and has been the Chief Financial Officer of JENOPTIK AG since April 1, 2015.
Other mandates
Prodomax Automation Ltd., Canada (member, group internal appointment, comparable supervisory body, not stock-listed, up to 31/1/2019)
JENOPTIK (Shanghai) Precision Instrument and Equipment Co., Ltd; China (member, group internal appointment, comparable supervisory body, not stock-listed)
JENOPTIK (Shanghai) International Trading Co., Ltd., China (member, group internal appointment, comparable supervisory body, not stock-listed)
JENOPTIK Traffic Solutions Switzerland, Switzerland (chairman, group internal appointment, comparable supervisory body, not stock-listed, since 5/7/2019)