RecommendFacebook Twitter LinkedIn
Jenoptik at SPIE Photonics West: Setting the stage for the future with a new strategic direction and key photonic technologies
At the world's leading photonics trade fair, Jenoptik will be demonstrating its service spectrum, from single components through to highly complex systems, which are being used to successfully address future challenges in semiconductor manufacturing, biophotonics, and industrial processes.
The new Jenoptik Light & Optics division, whose primary focus is supplying photonics solutions, will be showcasing its new strategy at SPIE Photonics West in San Francisco, California, USA. The division is thereby positioning itself as an international OEM partner for customer-specific solutions from concept creation through to series production. With decades of experience, customers rely on Jenoptik for cutting-edge, custom solutions based upon an even broader portfolio of technologies, from optics, lasers, digital imaging, opto-electronics and sensors.
The Light & Optics division will be highlighting its latest innovations for laser material processing. It will be showcasing its new technology demonstrator for 3D laser material processing as an extension to its motorized beam expander product range, F-theta lenses for additive laser processes, a broad selection of highly efficient micro-optics, high-power 275-watt diode lasers, and advanced 1060-nanometer semiconductor lasers.
You are invited!
On February 5, 2019 at 4:30 p.m. in the Jenoptik booth, the President & CEO of JENOPTIK AG, Dr. Stefan Traeger, will speak about the high-tech company's first major steps and successes in the implementation of the new corporate strategy.
Jenoptik is one of the main sponsors of the SPIE Start-up Challenge and will be represented in the panel of judges at the event. Applications Engineer Jim Hillendahl and Andrea Koertvélyessy, Business Development, will be judges for the runner-up and final rounds of the competition.
Visit us February 5–7, 2019 at SPIE Photonics West in the South Hall of the Moscone Center, booth #1250. Jenoptik will also be at the SPIE BiOS from February 2–3, 2019 in booth #8741 in the South Hall.
High-resolution images are available for download from the Optical Systems / Light & Optics / Press gallery in the Jenoptik image database.
Fast Focusing Module (FFM) for 3D Laser Material Processing
Just a year after launching the motorized beam expander BEX-M onto the market, Jenoptik announces its expansion of the motorized optical systems range with the addition of its line of fast focusing products.
The new Fast Focusing Module (FFM) for use in laser production systems complements Jenoptik solutions for 3D laser material processing. Adjustable in its focus position, the new FFM is highly dynamic and can align the laser spot in Z-direction, hence three dimensions of the processing area can be addressed. To do this, the FFM needs to be used in conjunction with a 2D beam deflector (galvanometer scanner). The new concept approach of the FFM is a response to the industry's demand for even more efficient optical systems for 3D laser material processing.
The system enables three-dimensional processing of materials with heterogeneous surfaces, for example for microstructuring, for deep engraving or drilling with high aspect ratios, for laser cutting, and for marking and labeling different materials. For applications that do not require F-theta lenses, the FFM is able to offset the field of curvature and thus magnify the processing area when used in combination with the galvanometer scanner.
The FFM has been specifically designed to work with Jenoptik's own F-theta lenses but can also be used with other beam guidance systems.
New F-theta Lenses for Additive Laser Production
Jenoptik has added two new lenses to the F-Theta-JENarTM Silverline lens series for high-power applications. With a focal length of 423 millimeters and a large scan field of 254 x 254 millimeters, the new lenses meet the requirements necessary for additive manufacturing processes such as 3D sintering.
They are designed for applications with fiber lasers from 1030 to 1080 nanometers and diode lasers from 900 to 1100 nanometers at outputs of up to 6 kilowatts. The high-quality materials and the low-absorption optical coatings (absorption is less than 5 ppm), ensure permanently stable beam quality with the highest spot performance.
In high-power application tests with lasers up to 6 kilowatts a minimum focus shift in fractions of the Rayleigh length was detected. These outstanding properties also ensure that production processes remain reliable and that the results will remain reproducible.

The F-Theta lens range from Jenoptik fulfills the requirements of almost all standard methods for micro and macro material laser processing. Jenoptik's F-Theta series lenses are extremely robust and do not require additional cooling, even at high laser powers. The adhesive-free mounting technology also contributes to the long-term stability of high-performance optics, and also provides long-lasting investment security.
Extremely Versatile Customer-Specific Micro-Optics
Customer-specific micro-optics from Jenoptik direct and shape laser light in optical systems for laser material processing, inspection, and lithography applications as well as pulse compression applications in a highly accurate and targeted manner. With modern production technologies and expertise gained from decades of experience, we are able to produce application-specific optical elements from UV to IR in series. The use of high-quality optical glass materials in conjunction with complex micro-optics structures ensures unbeatable accuracy and optimum efficiency.
Jenoptik's diffractive optical elements, such as optical gratings, diffusers, beam combiners, and homogenizers, guarantee results that are accurate to the nanometer, even at high laser powers in the kilowatt range. They are optimized in their zeroth diffraction order and the quality of the structures and optical coatings guarantees long-term stability. The micro-optical structures are used in laser systems for processing different materials, but also in medical technology, for virtual reality applications, and in telecommunications.
Pulse Compression Grating for 800 nm applications and Beam Combiner for Diode Lasers
In the field of optical gratings, Jenoptik is gradually expanding its portfolio for various wavelengths and applications. The company is introducing new encapsulated pulse compression gratings for 800 nanometer applications, including scientific setups in spectrometry, laser pumping, lithography, and inspection applications. The gratings are optimized in transmission and wavefront deformation, and reach an efficiency higher than 99 percent. The gratings remain thermally stable even at high powers. Thanks to the encapsulation, contamination can be easily eliminated. Jenoptik is set to introduce new enhanced efficiency beam for diode laser applications. In addition to the classic pulse compression in femtosecond lasers and laser material processing applications, the e2 (efficiency-enhanced) gratings are designed for use in telecommunications.
Multifocus Diffractive Elements
Jenoptik offers its customers application-specific multifocus elements, for example with 3, 5, 7 or 9 spots. These allow fast and efficient laser cutting in different layers of the substrate simultaneously, because of the accurate separations and energy distribution between the different spots. The optical design of the multifocus elements allows for a wide range of applications through to 3D material processing.
Diffractive Diffusers with Large Opening Angle
Jenoptik diffusers allow an opening angle of more than 80 degrees. They are therefore particularly beneficial for sensor applications with LiDAR, or VR/AR applications, since they ensure a homogeneous beam over the entire scan field. This can be achieved with different angles in the X and Y direction and with a very high aspect ratio.
New Diode Laser with 275-watt Output for Laser Material Processing
Jenoptik will also be presenting its latest development in the field of high-power laser sources for industrial material processing, and in particular for direct diode laser applications. The new diode laser with passive cooling impresses with its extremely high output power of 275 watts and long service life in both CW and hard pulse applications. This represents a significant increase in output power compared to products which had been available on the market up to now. Jenoptik has succeeded in combining important advancements in connection technology with an innovative approach to heat management to guarantee reliability under hard pulse conditions, even with such high output power.
The benefits are obvious: For manufacturers of laser systems in the kilowatt range, the complexity and costs of plants and systems are reduced due to fewer diode lasers being used. End users profit from both increased productivity and outstanding processing results thanks to the combination of high output power and excellent beam quality.
Visitors to SPIE Photonics West can get the lowdown on the benefits of these high-power diode lasers before they go into series production in the near future.
Hyperspectral lens with adjustable iris diaphragm to improve the performance of SWIR and hyperspectral cameras
The Jenoptik 25 mm f/2, 400–1700 nm hyperspectral lens maximizes the performance of many popular SWIR (shortwave infrared) and hyperspectral cameras. A broad spectral range of 400–1700 nanometers combined with an adjustable diaphragm makes the new lens very versatile.
The standard product lens will enhance image processing across medicine, industrial inspection, surveillance, and law enforcement applications.
Efficient Semiconductor Material for Medical and Industrial Applications
Jenoptik has long established itself as a specialist in the complete process and technology chain for laser semiconductor materials, high-power diode lasers, solid-state lasers and customer-specific application solutions. The company's production site in Berlin-Adlershof, Germany, produces robust and highly efficient bars, semi-bars and single emitters under the strictest quality controls. These products are individually tailored to perfectly suit customers' specific requirements before they are further refined into high-power diode lasers in Jena, Germany, to be then delivered to customers all over the world.
With its advanced 1060-nanometer semiconductor lasers, Jenoptik facilitates reliable applications in the field of Healthcare & Life Sciences as well as for advanced manufacturing technologies. Its focus on the intensive and continual development of this semiconductor material is aimed at ensuring reliability in the long-term at high output power and for various applications. Jenoptik therefore provides its customers with the best support for implementing their individual laser solutions.
Presentations
The following presentation will provide an overview of Jenoptik's advanced semiconductor materials and diode lasers for medical and industrial applications:
Title: Development of Highly Efficient Laser Diodes Emitting Around 1060 nm for Medical and Industrial Applications
Conference: High-Power Diode Laser Technology XVII
Session: Session 3: High Power Devices II
Date: February 3, 2019 | 4:10 p.m. | Moscone Center | Room 203 (South Level Two)
There is also the following presentation, which will provide an insight into current developments:
Title: Thermal Modeling of Laser Diode Packages
Conference: Components and Packaging for Laser Systems V
Session: Session 2: Diode Packaging
Date: February 4, 2019 | 2:40 p.m. | Moscone Center | Room 203 (South Level Two)
About Jenoptik's Light & Optics division
The Light & Optics division is a global OEM supplier of solutions and products based on photonics technologies. Jenoptik provides a broad portfolio of technologies combined with deep experience of more than 25 years in the fields of optics, laser technology, digital imaging, opto-electronics and sensors. Our customers are leading machine and equipment suppliers working in areas such as semiconductor equipment, laser material processing, healthcare & life science, industrial automation, automotive & mobility and safety, as well as in research institutes.
As a development and production partner, the Light & Optics division focuses on advancing cutting-edge technologies to improve our customers' system performance and ultimately realize product outcomes that reach new heights enabled by our highly-integrated photonic solutions. The systems, modules and components based on photonics technologies help our customers overcome their future challenges.
Contact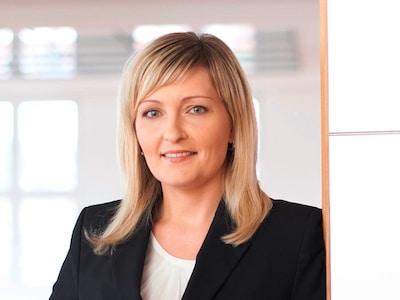 Denise Thim
Communications and Marketing
Tamara Whittaker
Marketing and Communications