RecommendMail Facebook Twitter LinkedIn
Jenoptik donates 10,000 euros to Jena schools to be used for better homeschooling
Together with the Jena Alliance for Family, the Jena company initiated an appeal for donations for the municipal schools. The donations are to be used to purchase mobile devices that will primarily benefit socially disadvantaged families in learning at home. The first first donation was handed over at Jenoptik on August 21.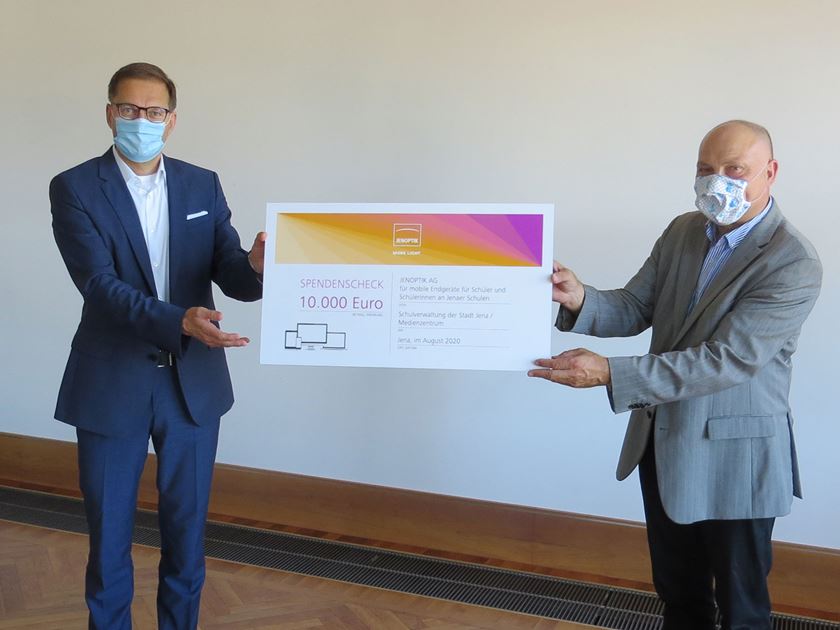 Working parents have often been under much pressure in recent months due to the corona spread. Although many were able to work remotely at home, they also had to devote themselves to all-day childcare including homeschooling – often a great challenge for families and schools, not least because of the technical equipment required for this at home.
Companies like Jenoptik also had to adapt to this new situation. As an employer with many parents affected, it has been important to Jenoptik, not least at its Jena headquarters, to provide support for families and schools in Thuringia from the new school year onwards.
The Executive Board and the HR management of Jenoptik, together with the Jena Buendnis fuer Familie (Alliance for Family) and the Jena School Administration, have therefore been looking for ways to make it easier to return to scheduled school operations if homeschooling continues to play an important role alongside attendance classes.
On the initiative of Jenoptik, a call for donations was made to Jena companies to provide financial support for the purchase of tablets and laptops, which will be made available on loan to socially disadvantaged families. Jenoptik supports this project with a donation of 10,000 euros. President & CEO of Jenoptik Stefan Traeger presented the symbolic donation check to representatives of the Jena school administration on August 21, 2020.
Stefan Traeger: "Digital educational offers are more important than ever to make homeschooling more manageable, but not all families can afford the appropriate technology for this. With our donation we want to contribute to providing as many children as possible with equal conditions for learning at home."
Eberhard Hertzsch, Head of the Department for Family, Education and Social Affairs of the City of Jena: "During the lockdown phase of the Corona pandemic, which was the first and only possible homeschooling phase, it was found that not all children had the necessary equipment. For this reason, the business community and city administration want to work together to create the basis for more equal opportunities, participation and a digital future."
Jenoptik also supported a similar project at the company's Dresden site. A donation has already been used to purchase laptops, which can be borrowed for learning at home, at the Coswig grammar school.
Information on other projects supported by Jenoptik can be found online on the Jenoptik website under Sustainability / Social commitment.
A picture of the donation handover is available for download in the Jenoptik image database under "Events".
In the picture from left: Jenoptik President & CEO Dr. Stefan Traeger and Eberhard Hertzsch, Head of the Department for Family, Education and Social Affairs of the City of Jena.
About Jenoptik
Jenoptik is a globally operating technology group, which is active in the three photonics-based divisions Light & Optics, Light & Production and Light & Safety as well as with VINCORION for mechatronics solutions. Optical technologies are the very basis of our business with the majority of our products and services being provided to the photonics market. Our key target markets primarily include the semiconductor equipment industry, the medical technology, automotive and mechanical engineering, traffic, aviation as well as the security and defense technology industries. Jenoptik is listed on the Frankfurt Stock Exchange, has more than 4,100 employees and generated revenue of approx. 855 million euros in 2019.