RecommendFacebook Twitter LinkedIn
Jenoptik supports the Thalbürgel monastery church
The social commitment of the Jenoptik Group will continue despite the Corona impacts. A donation of 1,000 euros will benefit the Thuringian monastery church in Thalbürgel.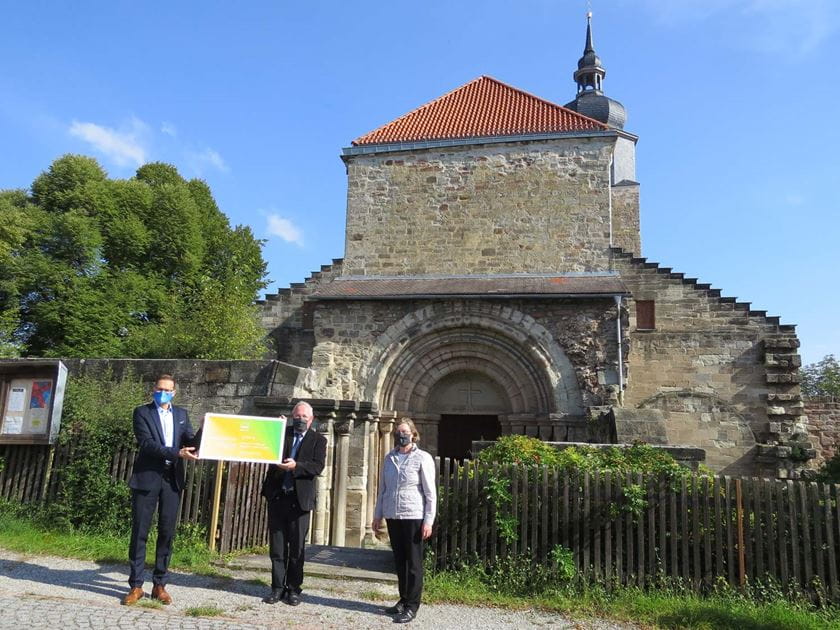 Jenoptik CEO Stefan Traeger (see picture, left) handed over a symbolic donation check to Anne and Eckhard Waschnewski from the Thalbürgel Monastery Church Foundation on October 2, 2020.
On this occasion Stefan Traeger informed himself about the progress of the construction project "Mitten im Leben" (English: "In the middle of life") of the Monastery Church Foundation. The construction project is intended to create an extension of the complex directly next to the monastery church, which among other things will allow for more accessibility.
Jenoptik has been a sponsoring partner and patron of the concert summer in the monastery church for many years. This year the series of events had to be cancelled due to the Corona pandemic. The financial support provided by Jenoptik is now being partially channeled into the construction project. Jenoptik has also supported the project as part of a fundraising campaign together with LEC Laser Event GmbH.
Pastor Eckhard Waschnewski thanked Stefan Traeger for continuing the support: "Thanks to the support of JENOPTIK AG, many visitors have enjoyed the atmosphere made possible by the synthesis of spiritual space and music in Thalbürgel for many decades. The donation will help to ensure that we will soon be able to offer significantly better conditions for visitors to the monastery church in Thalbürgel. This is a wonderful perspective for the concert summer."
In the course of the spread of the corona pandemic, many events that Jenoptik has supported as a sponsoring partner in recent years were cancelled in Thuringia. Wherever possible, Jenoptik supported its long-standing partners in this exceptional situation in other ways. For example, the Jena-based group donated to the Corona emergency fund of the University of Jena, instead of funding their summer event.
Since the founding of the company almost 30 years ago, Jenoptik has been committed to education and science, art and culture as well as social affairs, and not only at its headquarters in Jena. More information on Jenoptik's CSR activities can be found online on the Jenoptik website under Sustainability / Social commitment. A picture of the donation handover is available for download at media.jenoptik.com in the "Events" gallery.
About Jenoptik
Jenoptik is a globally operating technology group, which is active in the three photonics-based divisions Light & Optics, Light & Production and Light & Safety as well as with VINCORION for mechatronics solutions. Optical technologies are the very basis of our business with the majority of our products and services being provided to the photonics market. Our key target markets primarily include the semiconductor equipment industry, the medical technology, automotive and mechanical engineering, traffic, aviation as well as the security and defense technology industries. Jenoptik is listed on the Frankfurt Stock Exchange, has more than 4,100 employees and generated revenue of approx. 855 million euros in 2019.