Jenoptik becomes main sponsor and partner of the Jena "Imaginata"
The Jenoptik Group is focusing its sponsorship more strongly on science and the promotion of young people in the natural sciences. Jenoptik has agreed a three-year partnership with the Imaginata experimental and science park in Jena.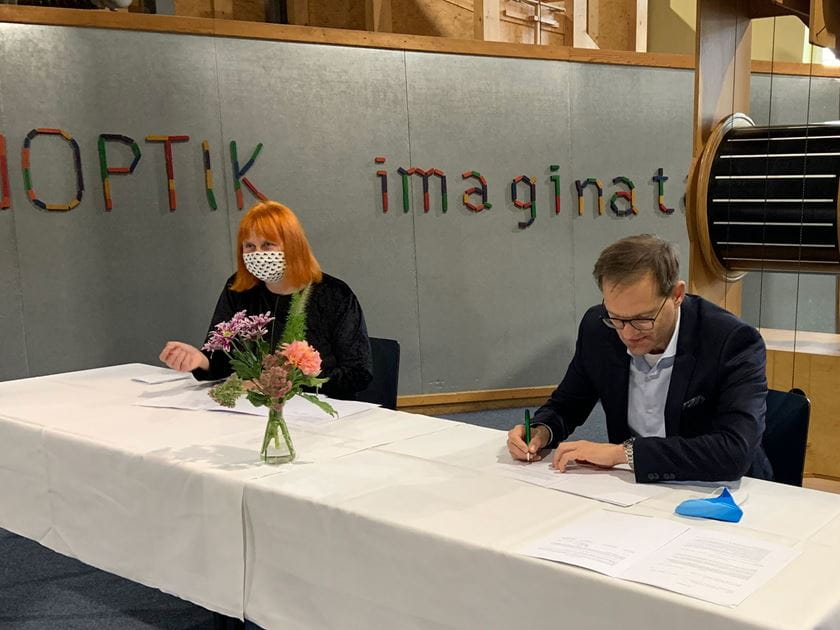 Jenoptik President & CEO Dr. Stefan Traeger signed the sponsoring agreement together with Dr. Heidrun Jänchen, 1st Chairwoman of the Executive Board of Imaginata e.V., and Imaginata Managing Director Ramona Völkel on October 12, 2020 in the Station Park of the Imaginata Science Center.
Jenoptik and Imaginata agreed on a partnership for 2021 to 2023 in the presence of Jena's Lord Mayor Dr. Thomas Nitzsche and other representatives of the city and JenaKultur. The sponsorship of Imaginata by the previous main partner will expire at the end of this year. The Imaginata sees itself as a place for experiments, a place of learning, a laboratory for education, a monument, a science center, a concert hall and a gallery.
Jenoptik's sponsorship is intended to provide Imaginata with long-term financial leeway to maintain the multitude of experiments, events and offers for scientific (further) education. In addition, the philosophy of Imaginata offers many links to the objectives and focal points of Jenoptik's social commitment.
Jenoptik CEO Dr. Stefan Traeger: "We want to contribute to ensuring that Imaginata continues to be a creative educational partner in Thuringia. This is not just about financial support. We want to build up a partnership that moves us forward together. For us, creativity, innovation and natural sciences are also the cornerstones of further development."
Dr. Heidrun Jänchen: "We are very pleased to have found in Jenoptik a partner in Jena who shares our enthusiasm for hands-on education. This gives us the opportunity not only to maintain the Station Park in the long term, but also to become more active again with events between science, art and civic involvement."
Lord Mayor Dr. Thomas Nitzsche: "The City of Jena is proud to have Imaginata, a truly exceptional educational and learning location for young and old, which attracts many visitors from Jena and the surrounding area. Many thanks to JENOPTIK AG, whose support helps to further develop this important location factor."
Imaginata was founded in 1995 with natural science stations and events. Since 1999 it has been located in the former transformer station in Jena-Nord and attracts over 20,000 visitors a year, including many school classes that explore science there in a playful way and with all their senses.
Since the company was founded almost 30 years ago, Jenoptik has been committed to social issues not only at its headquarters in Jena. As the main sponsor of Imaginata, Jenoptik is focusing its sponsorship concept even more strongly on education and science, in particular the promotion of young talent and natural sciences or STEM subjects.
Image: Jenoptik CEO Stefan Traeger and Imaginata Chair Heidrun Jänchen sign the sponsoring/partnership contract.
About Jenoptik
Jenoptik is a globally operating technology group, which is active in the three photonics-based divisions Light & Optics, Light & Production and Light & Safety as well as with VINCORION for mechatronics solutions. Optical technologies are the very basis of our business with the majority of our products and services being provided to the photonics market. Our key target markets primarily include the semiconductor equipment industry, the medical technology, automotive and mechanical engineering, traffic, aviation as well as the security and defense technology industries. Jenoptik is listed on the Frankfurt Stock Exchange, has more than 4,100 employees and generated revenue of approx. 855 million euros in 2019.