Successful landing on Mars: Perseverance rover is equipped with Jenoptik lens assemblies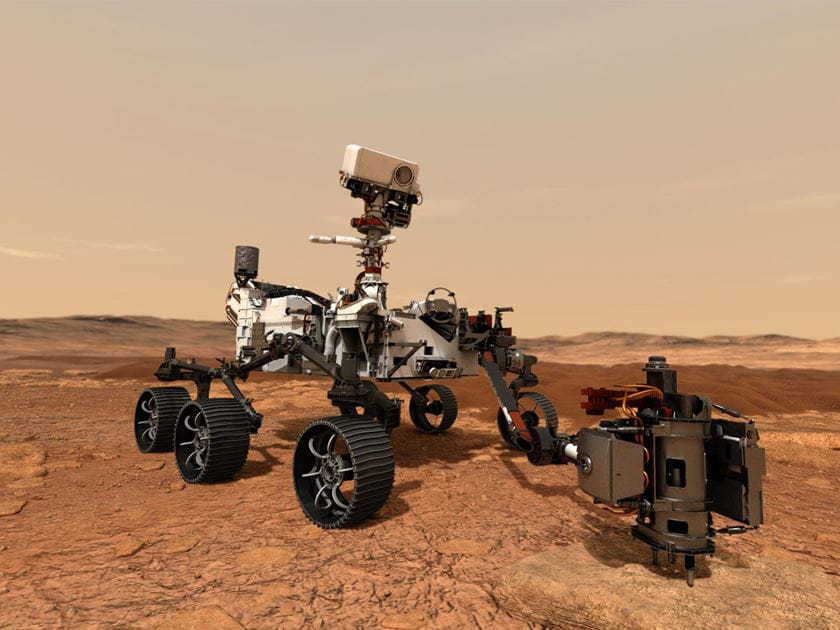 Following the safe landing of the Mars Rover on February 18, 2021, the world was eager to see the first images of the planet. The National Aeronautics and Space Administation (NASA) quickly released two images of Mars which also confirmed the rover's successful entry, descent and landing.
Jenoptik is particularly proud of and happy about seeing these first images of Mars as they were taken with the engineering cameras and lens assemblies that Jenoptik contributed to the Mars 2020 mission.
Jenoptik CEO Stefan Traeger: "We are a proud partner in delivering the first images of Mars from the Perseverance rover seen through Jenoptik HazCam camera lens assemblies! Congratulations to NASA, NASA Jet Propulsion Laboratory and all other teams that made this historical event a success!"
Jenoptik engineers had developed, assembled and tested three different types of extraordinary, cutting-edge lens assemblies for the Mars mission at the Jenoptik facility in Jupiter, Florida. They will contribute to the success of Perseverance by helping the rover navigate, avoid hazards and collect core rock and soil samples along its journey.
Jay Kumler, responsible for Jenoptik's optics business in North America: "We're proud that Jenoptik is helping pave the way for possible human exploration of Mars by engineering and manufacturing mission-critical technologies for space exploration. From helping Perseverance navigate, avoid hazards while it is in motion and enabling the collection of samples, Jenoptik is at the forefront of delivering critical photonic technologies and products for human advancement."
For more information on the Jenoptik lens assemblies in the Perseverance Mars Rover we invite you to read our blog article.
First images of Mars taken by the engineering cameras of the Perseverance rover (Credits: NASA/JLP-Caltech)
About Jenoptik
Optical technologies are the very basis of our business: Jenoptik is a globally active technology group and is active in the three photonics-based divisions: Light & Optics, Light & Production and Light & Safety. Under the TRIOPTICS brand, Jenoptik also offers optical test and manufacturing systems for the quality control of lenses, objectives and camera modules. VINCORION is the brand for our mechatronic business. Our key target markets primarily include the semiconductor industry, medical technology, automotive and mechanical engineering, traffic, aviation as well as security and defense technology industries. Around 4,400 employees work for Jenoptik worldwide. The Group's headquarters are in Jena (Germany). JENOPTIK AG is listed on the German Stock Exchange in Frankfurt and is included in the SDax and TecDax. In the 2020 fiscal year, Jenoptik generated revenue of approx. 767 million euros according to preliminary figures.