RecommendMail Facebook Twitter Google Plus
Photodiodes from Jenoptik: photodiodes for spectrally selective light and radiation detection
The photodiodes from Jenoptik can be easily integrated into your existing systems or adapted to optoelectronic applications, and can also eliminate the need for external filters.
For its photodiodes, Jenoptik uses A3B5 materials such as AlGaAs, GaP, InGaAs, AlGaN or SiC. We manufacture spectrally selective photodiodes for detecting visible light, IR radiation or UV radiation. They reliably detect spectral ranges between 150 and 1700 nm.

Our photodiodes are available in hermetically sealed metal housings with optical flat or lens caps. Alternatively, we can supply SMD housings or customer-specific modules with chip-on-board technology.
The semiconductor materials that we use result in very low dark currents, which in turn produce a particularly high signal-to-noise ratio when compared with the widely used Si-based photodiodes. The resulting photocurrent is directly proportional to the irradiation intensity across multiple decades. Low junction capacitance ensures short switching times and rapid signal transmission. In some cases, no additional optical filters are required when using our spectrally selective photodiodes.



Benefits
Secure: high sensitivity and interference-free signal transfer
Reliable: optimum suppression of undesired spectral ranges
Stable: minimal changes to the photocurrent over an extended period, reliable operation even at high temperatures thanks to high signal-to-noise ratio
Cost-saving: no need for additional spectral filters
Fields of Application
Automotive industry: for rain sensors, lane departure warning systems, digital data transmission in vehicles
Traffic safety: for daylight/tunnel sensors
Medical technology: for diagnosis and therapy, e.g for fluorescence analyses, blood tests
Security technology: for spectrally selective light barriers
Metrology: measurement and monitoring of optical radiation sources, e.g. flame detection and water disinfection
Optoelectronic components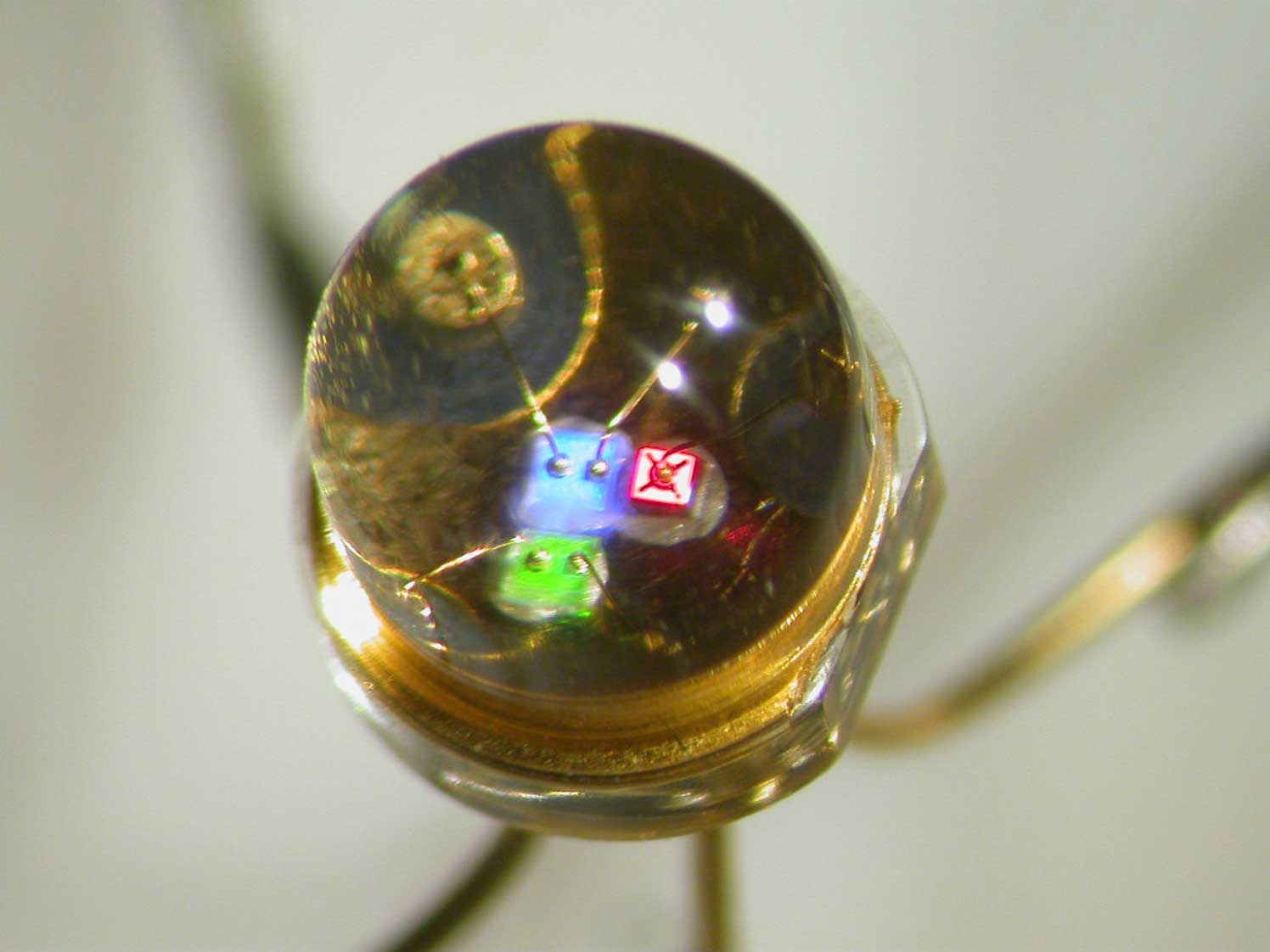 As a system supplier, we produce customized chips and LEDs
Standard chips from 360 nm up to 1750 nm
Customized layouts
Monolithic display chips
Point source chips for visible and infrared
Sorting in accordance with special wavelength or output power requirements
Various housings (3 mm, 5 mm, SMDs, TO-packages) to meet customer's
Photodiodes
UV-photodiodes from UVA to UVC and wide-band
pectral selective photodiodes based on A3B5-semiconductors with high sensivity from visible to NIR range
InGaAs-photodiodes in standard visible enhanced version
Low dark currents
High linearity of photocurrent
High temperature stability and low degradation of sensitivity
Custom designed modules
Development of integrated solutions from chip design through optical lens design
Chip on board technology
RGB-Modules
Jumbo-LEDs from visible to infrared
Thermal management with excellent heat sinking
Packaging of imaging and CMOS sensors
Clean room class 100 facility
Optosensors and measuring devices
For UV measurement and monitoring applications
For maintenance and calibration purposes of UV curing facilities
Measuring heads and control units for water disinfection facilities
Sensors for flame detection
Sensors for medical devices such as for light therapy
UV illumination devices for biomedical applications
Please contact us for more information.
Sales Photodiodes & LEDs
+49 30 6576 25-09
+49 30 6576 25-45