RecommendMail Facebook Twitter Google Plus
SPECS3 VECTOR: High-resolution ALPR cameras enforce average speed in up to two lanes
TraffiSection VECTOR P2P traffic cameras capture excellent images even in poor lighting conditions, such as at night. They deliver reliable readability of vehicle license plates.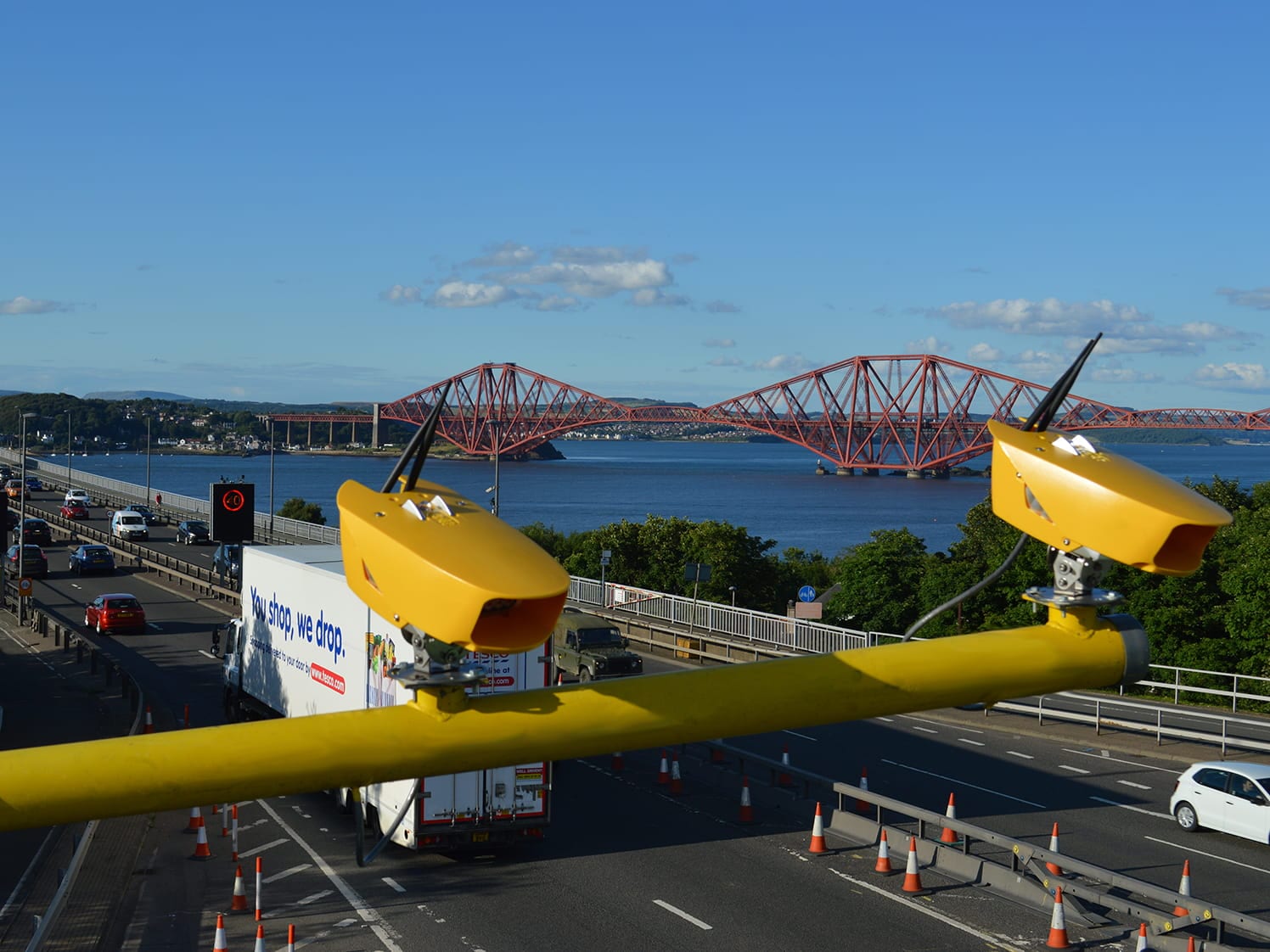 High-resolution VECTOR P2P speed measurement systems enable average speed enforcement in two lanes — either in one direction only, or approaching and departing traffic simultaneously. Depending on the application, rear and/or front photographs are captured. The systems measure the average speed over a particular section of road. This not only improves traffic safety but also increases the flow of traffic.
Two high-resolution cameras read the license plates of vehicles by day and night. When lighting levels fall below a specified threshold, the VECTOR P2P traffic cameras automatically switch to night mode. The integrated IR flash helps to produce clear black and white images even at night. Images and data can be made available via various communication options, including mobile data transfer.
VECTOR P2P traffic cameras come complete with a durable weatherproof housing and according to your requirements can be installed virtually anywhere. Jenoptik can assist with location selection and installation. VECTOR P2P cameras are compatible with semi-portable SPECS3 POD (Portable OutStation Device) systems. Furthermore, a single control unit is able to receive data from multiple VECTOR cameras and from various SPECS3 locations. Installed cameras and movable PODs are easy to combine. We therefore can create and implement an individual concept for your traffic monitoring system customized to meet your requirements.
VECTOR P2P traffic cameras are approved by the British Home Office (HOTA) for speed enforcement in Great Britain and Northern Ireland.
Benefits
Two lanes: ALPR cameras monitor an exceptionally wide section of road. They monitor approaching or departing traffic — or both directions simultaneously.
Day and night: These systems produce high-resolution images even in poor lighting conditions and on dark roads.
Precise: They capture license plates of passing vehicles with HOTA-certified precision and calculate the average speed.
Advanced: Decades of experience in measuring and camera technology; a leader in the United Kingdom.
Fields of Application
Police, municipal authorities, provinces, ministries, authorities and private highway operators: Average speed checks in two lanes.
Technical data
Camera resolution: 1280H 1024V
Lighting: Controlled pulse infra-red LED, 850 nm
Operating range: 5.4 to 10 m height, ± 14.4 m angular offset
Baseline length: Min. 75 m, max. 20 km (no specified minimum baseline)
Camera orientation: Forward or rear facing (cameras must be in the same alignment)
Lane changing: Any lane in, any lane out
Secondary checks: Fully integrated automatic secondary checks in accordance with the requirements of the British Home Office (HOTA)
Speed limits: Up to 225 km/h
Compatible: All standard software solutions can be connected
Communication technology: Stores events and images and transmits them to ERCU for backup
Communication: HSPA (3G), GPRS, ADSL, LAN, SMS, IEEE802.11b/g/n (WiFi), GPS clock, GPS location, tamper switch, analogue video feed for comparative measurements
Physical data: 3.5 kg, 340 mm x 182 mm x 125 mm (with sunshield); robust metal casting, 3 axis adjustable stainless steel bracket
Environmental conditions: IP67
Power supply: 48 VDC or 90-240 VAC supplied via column box, providing 48 VDC to the camera unit. Typical power consumption of 25 W
Housing color: Yellow — other colors available on request
Other features: Built-in compass and alignment angle
Please contact us for more information.
Sales Traffic Solutions
+49 2173 3940 -0
+49 2173 3940 -169
Sales Traffic Solutions
+44 1183 13 0333
+44 1183 13 0370