RecommendMail Facebook LinkedIn
Innovative LiDAR Technologies: Optical Modules and Components for LiDAR Sensors
Delivering the Power of Light – For more efficiency, safety, and autonomy.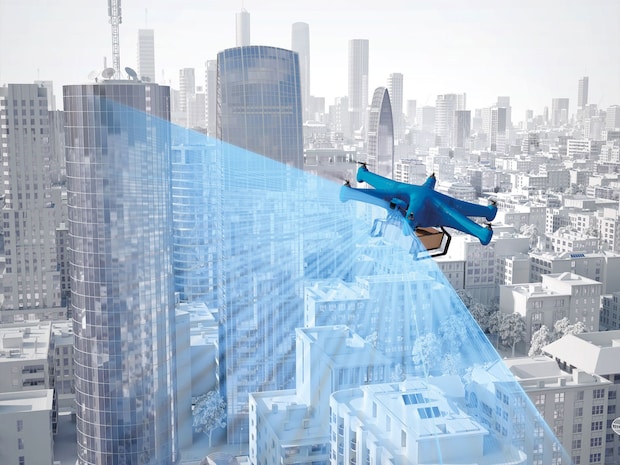 LiDAR sensors are a key technology of the future for process automation or highly automated, fully automated and autonomous driving. In conjunction with cameras and radar sensors, they perceive the surroundings, help with orientation, detect obstacles, measure distances - and thus ensure greater safety and efficiency on busy roads and in automated industrial environments.
Light Detection And Ranging in 3D: the key to fully autonomous driving
By generating precise 3D images of the vehicle or automation environment through thousands of distance measurements per second, 3D LiDAR sensors provide essential information for reliable object detection and collision avoidance. The optical LiDAR method allows higher spatial and depth resolution compared to radar sensors, is faster and less computationally intensive than camera technology and thus complements the vision of semi-autonomous and autonomous vehicles or industrial installations.
Behind the simple-sounding method is high-tech: The exact interaction of laser, optics and detector of the transmitting and receiving unit of a 3D LiDAR sensor based on Flash, solid state, MEMS, or rotating mirror technology requires profound know-how in these disciplines. It is this combination of knowledge and practical experience that makes Jenoptik unique in this area.
As a leading photonic specialist, we enable our customers to create custom LiDAR sensors for challenging applications in the automotive, mobility, industrial automation, and safety & security markets. Our offer ranges from customized optical and opto-electronic components and assemblies for 1D to 3D LiDAR sensors (polygon and MEMS mirror based, Flash LiDAR, etc.) to integrated 1D laser rangefinder and test equipment for all types of LiDAR sensors. Embark on the journey with us and benefit from The Power of Light!
Customized 3D LiDAR optical sensor components and modules from a single source
The precise and efficient emission and detection of light is the key to complex LiDAR sensors, which are increasingly being tuned for performance, reliability, compactness and cost-effectiveness. Here, specialists like Jenoptik are in demand, who offer comprehensive know-how along the photonic chain glass and polymer optics.
Our LiDAR components and modules on receiver and transmitter level for all common types of 3D LiDAR sensors are based on more than 40 years of experience and are tailored to the specific needs of our customers. As a partner to our customers, we offer solution-oriented consulting, development, production, and service from a single source. Our wide range of expertise and system competence already makes us one of the leading tier 2 suppliers for LiDAR sensor system suppliers in the automotive sector.
Laser rangefinder and rangefinder modules (1D LiDAR) for demanding applications
For industrial automation and safety & security applications, we are a leading supplier of laser distance sensors and LiDAR sensor modules for demanding applications. When it comes to long range and high accuracy in reflectorless measurements on low-reflectance, natural surfaces, our products are in demand. Benefit from our experience!
Among our offers are:
Customized optical receiver modules for all common 3D LiDAR sensor types (polygon and MEMS mirror based, Flash LiDAR)
Customized optical transmitter modules for all common 3D LiDAR sensor types (polygon and MEMS mirror based, Flash LiDAR)
Diffusor optics for Flash-LiDAR sensors
Customized in-line test equipment for 1D and 3D LiDAR sensors
LiDAR components and sub-modules to enable Advanced Driver Assistance Systems (ADAS)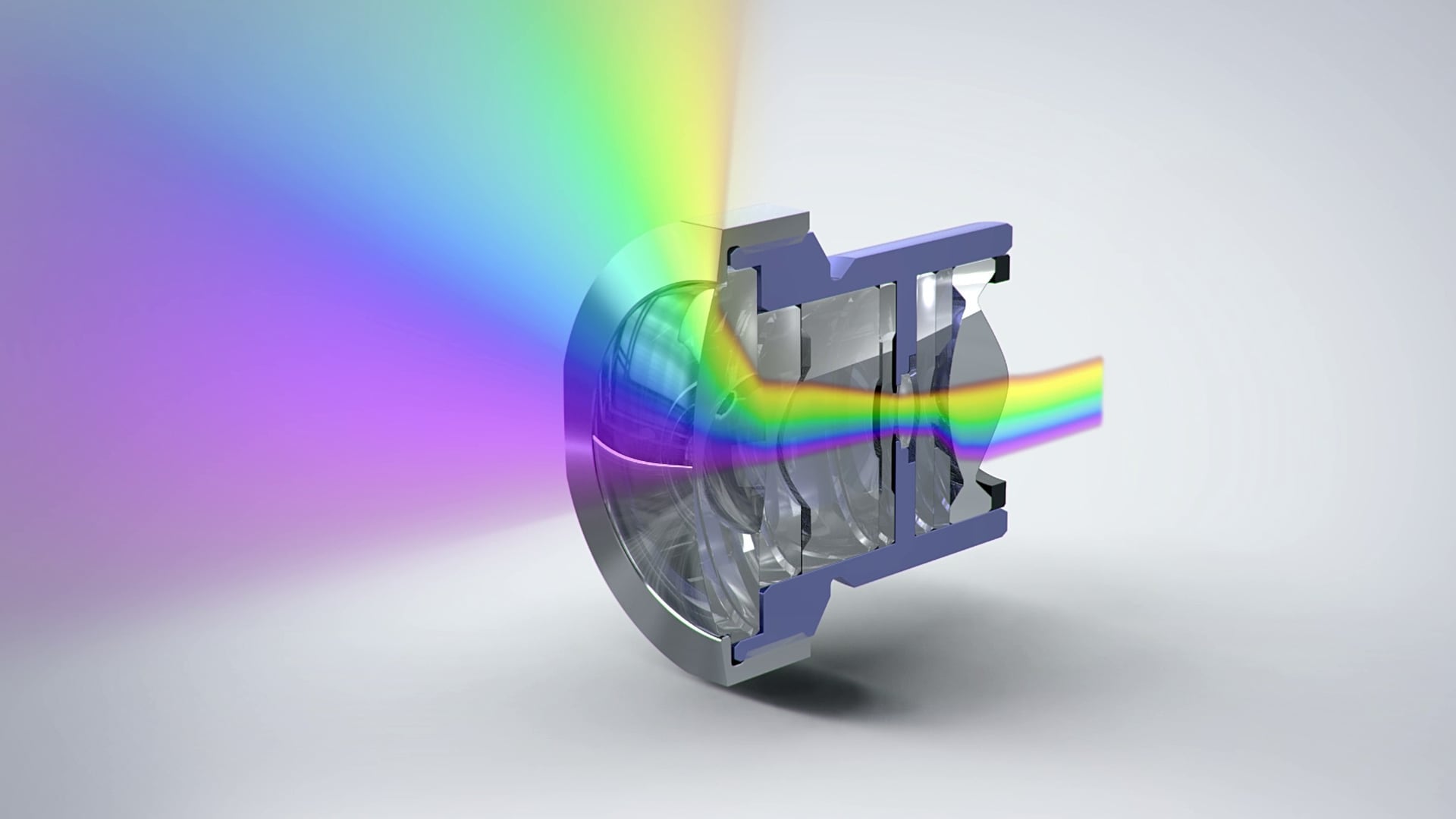 Overview of common LiDAR measurement methods
The 3D LiDAR method is based on scanning or imaging the environment by means of many individual optical distance measurements (= Light Detection And Ranging). These distance information is combined into a 3D image ("point cloud") of the environment seen by the LiDAR sensor. The distance information per image is recorded successively (Scanning LiDAR) or simultaneously (non-scanning Flash LiDAR), depending on the LiDAR measurement method.
Flash LiDAR (Non-Scanning LiDAR)
Flash LiDAR sensors illuminate their field of view by means of a single expanded laser pulse or laser beam. The reflected laser light is then imaged on a detector array and the time-of-flight for the light per detector element is evaluated. This results in a complete 3D image of the field of view for each single laser pulse emitted. Since Flash-LiDAR sensors do not use any moving parts, these sensors are robust, insensitive to vibrations and compact. For example, they can be easily integrated into autonomous vehicles also in large quantities.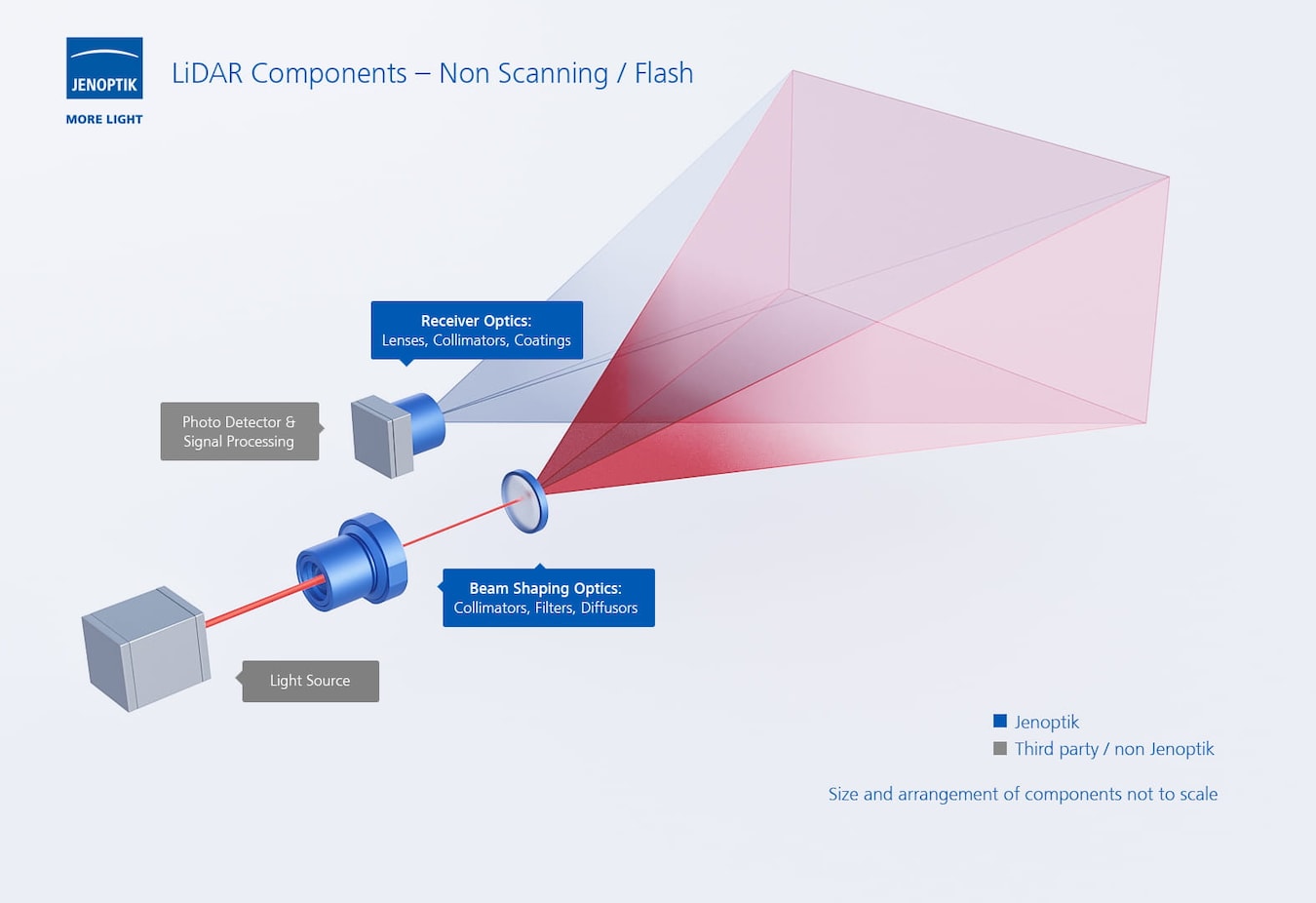 Scanning LiDAR
Scanning LiDAR sensors scan the environment with many individual laser pulses. For this purpose, a collimated, pulsed laser beam (as a point or line shape) is guided over the field of views by means of a scanning optical system (transmitter optics). The light reflected by the sensor's environment is then guided to a photodetector (receiver optics). Rotating polygon mirrors or micro-electromechanical systems, so-called MEMS, based on semiconductors are used as deflection optics. Disadvantages of these sensors are their bulky size, wear due to moving components, and also manufacturing costs.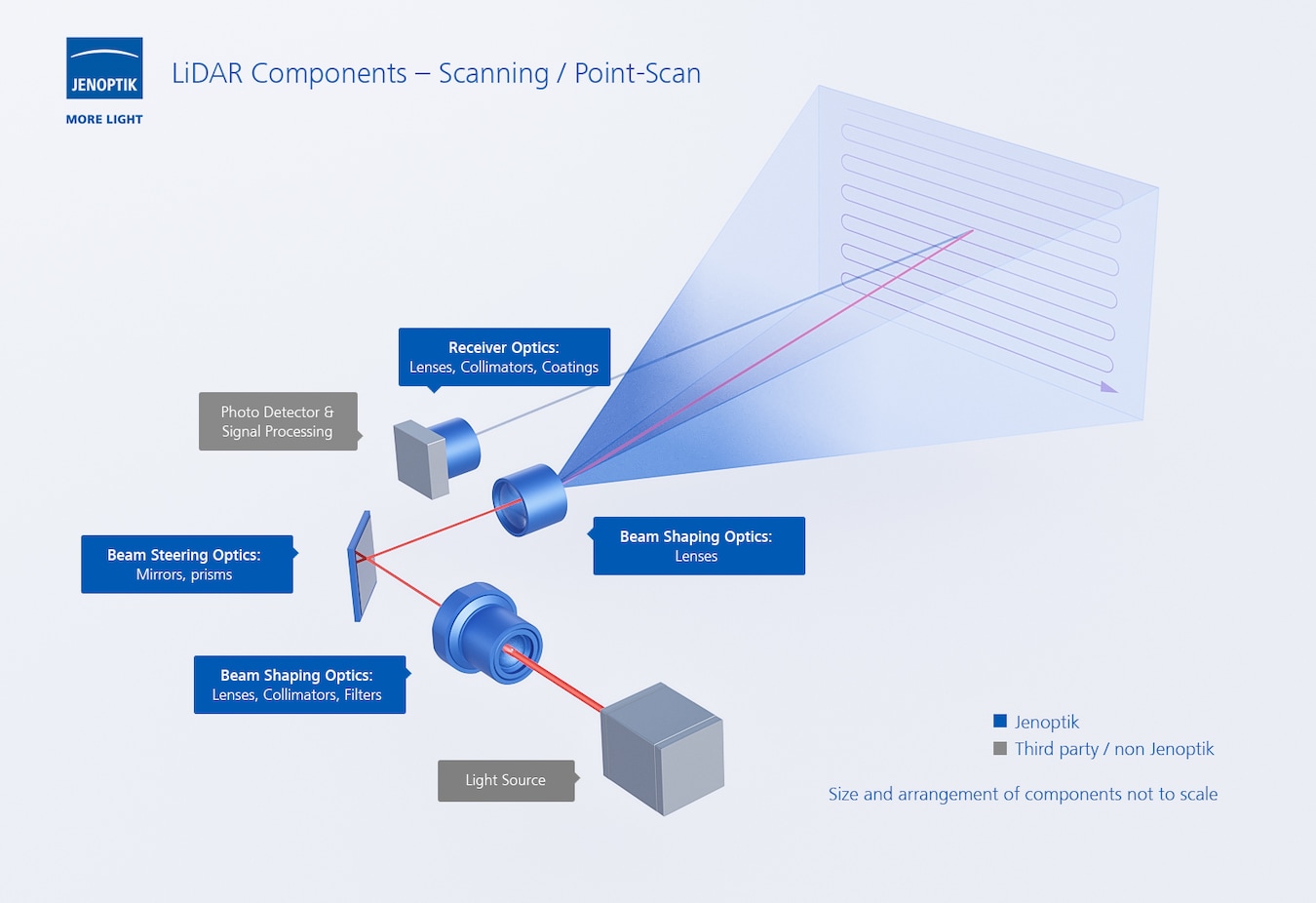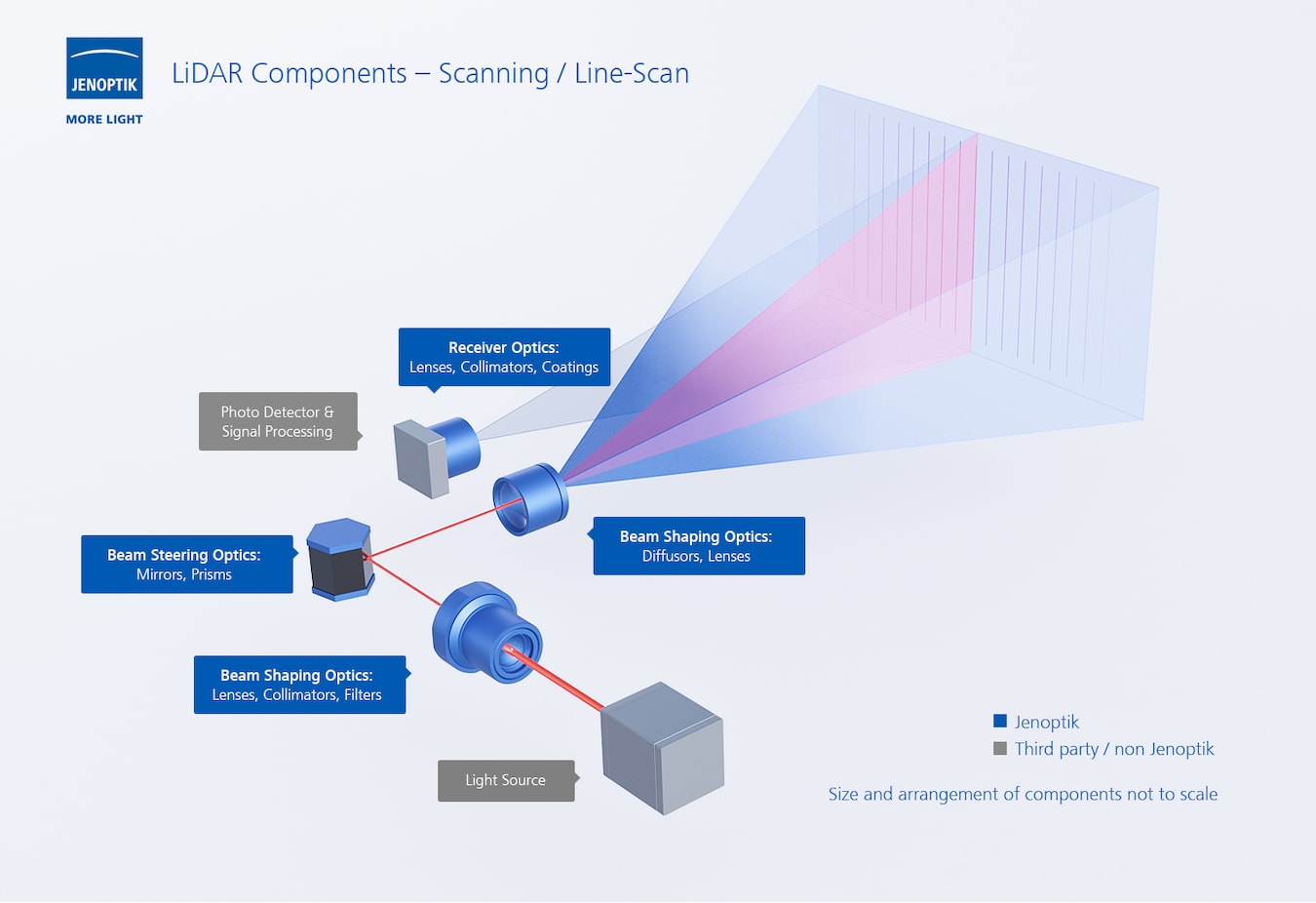 Components and sub-modules for 3D LiDAR sensors
Transmitter Optics for LiDAR Sensors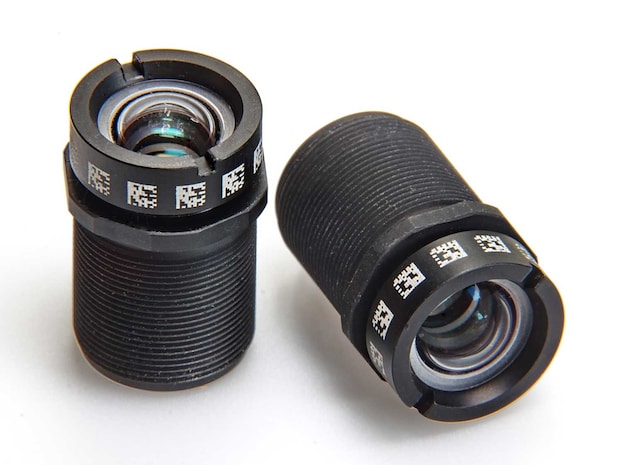 The LiDAR sensor's transmitter optics have the task of shaping (i.e. collimating or expanding) the laser beam and directing it to the field of view (FOV) of the sensor, to be measured. Depending on the sensor type, the transmitter optics generate single laser spots, laser lines or illuminate the complete field of view of the sensor. Homogeneity and distortion-free imaging are prerequisites for reliable measurement data of the LiDAR sensor.
Our offerings and services include:
Transmitter optics with mirrors, lenses, diffractive or refractive optical elements (DOE, ROE) and microlens arrays (MLA)
Hybrid lenses. These combine the best properties of spherical, aspherical and free-form optics based on glass or plastic (polymers, polycarbonates)
Athermal lenses for temperature ranges from -40 °C to +110 °C
Optomechanical design of customer-specific lens systems
Imaging optics and collimators
Structured laser lighting (point, line, area)
Optical Diffusers for Flash LiDAR Sensors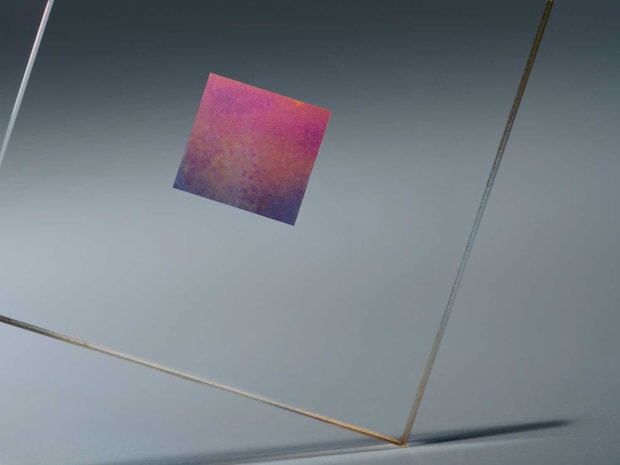 Flash LiDAR sensors require homogeneous, full-area illumination of the field of view. To achieve this, the laser beam is expanded homogeneously by optical diffusers, and then projected onto the field of view (FOV) of the LiDAR sensor. Depending on the measurement geometry and sensor type, different diffusers are used for which we can offer you tailor-made solutions.
Your advantage: Our expertise in optical diffusers is as diverse as it is unique. At our locations in Germany and the USA, we combine technological know-how, R&D resources and various production processes from fast prototyping and ultra-precision technology to photolithography and two-component injection molding. In short: Jenoptik is your competent and driving partner who accepts your challenges and with extraordinary solutions enables you to create high-performance LiDAR sensors.
Our services include:
Diffractive and refractive optical elements (DOE, ROE)
Microlens arrays (MLA) and free-form optics
Optical components made of glass, plastic/polymer, or waver/semiconductor-based
From ultraviolet (UV) to far infrared (FIR)
Structures up to 0.1 µm (glass, wafer) or 2 µm (plastic)
Rapid prototype production through Diamond Turning, Ultra Precision Turning, Ruling, Milling, and Fly-Cutting
Inexpensive series production by injection molding
Optical coatings and filters
Individual optical components, modules and opto-mechanical systems
Our LiDAR Components and Modules
Benefits
Unique photonic system competence: we combine deep experience in laser technology, optics and sensor technology in one house. This makes us a unique partner for manufacturers of LiDAR sensors.
Customer-specific: tailor-made optical components, optomechanical assemblies for challenging LiDAR applications
Solution-oriented: you do not want to know anything about lenses? We analyze your application and find a solution for you.
Integrated solutions: complete technology chain from design to development, production, from a single source
Vertical integration: from prototypes to mass production
International: we are available for you worldwide
Applications
Autonomous driving and advanced driver assistance systems (ADAS)
Automation technology und Industry 4.0
Process control, transport, and logistics
Security and defense technology
Traffic engineering and mobility
Do you have any questions? Our experts are happy to help.