RecommendMail Facebook LinkedIn
Optoelectronics: Products and Customer-Specific Systems Using the Latest Technology
Jenoptik supports you in the production of optoelectronic systems and components that are perfectly tailored to your requirements.
We offer a broad range of development services and products covering optical system solutions and components in the area of optoelectronics. We also develop from prototype and manufacture to series customer-specific systems that are perfectly tailored to your individual applications and requirements. We support you from the initial idea and the design stage through to production, assembly and quality control, including supply chain management.

The many years of experience and comprehensive expertise of our experts enable us to combine optics, electronics, mechanics and software in our solutions. This gives you a competitive edge, allowing you to concentrate on your core competencies. You also reduce cost and resources. You can outsource the risk of production, while benefitting from faster market launch times.

As a reliable partner, we offer the highest-quality optoelectronic systems. All of our system solutions and products correspond to ISO standards and the respective industry standards. To ensure the performance and functionality of our products, we perform a range of tests—from spot checks through to comprehensive tests—using specific testing methods.

In addition to our customer-specific solutions, we offer a comprehensive portfolio of standard optoelectronic products.

Benefits
Reliable: Expert partner— from the initial consultation meeting through to aftersales service
Highest quality: Thanks to our technical expertise and wealth of experience
Cost-effective: Save resources and avoid unnecessary investments
Safe: Outsource your risks
Certified: Our products meet strict ISO standards
Fields of Application
Medicine, analysis and diagnostics: Polymer optics for blood glucose meters, optical systems for gene analysis, dental and laboratory analysis processes, microscope cameras
Digital imaging: System solutions for digital imaging
Automotive: Polymer fiber optics, camera lenses and objective lenses, components for driver assistance systems
Optoelectronics packaging: Image sensors including packaging for camera systems, microelectronics, microchips, LEDs and photodiodes
Safety technology: Image sensors, LEDs and packaging for camera systems and IR camera systems, microchips for telescopes and telescopic sights
Machine vision and sensors: Polymer optics and free-form optics for scanners, rotary encoders, process monitoring
LED lighting: High-bay luminaires, LED system solutions
Do you have any questions? Our experts are happy to help.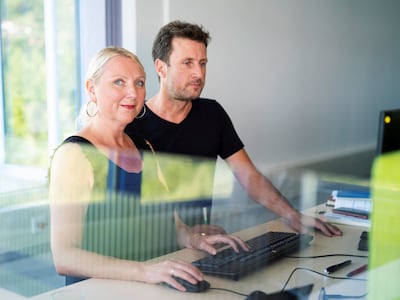 Digital Imaging & Optoelectronic Systems
HCI-CN-Carl-Wang
EditContact
Sales North America