Experience reports from trainees
Lisa Beer - Trainee precision optician
"I think it's great that it's handcrafted." 
What did you do before starting your apprenticeship at Jenoptik?
I completed my secondary school and immediately started my apprenticeship.
Why did you decide to train at Jenoptik?
When I was informing myself, many companies sounded good. But I didn't feel so comfortable during an internship in another large company. I only stood at the machine "part in, part out...". Jenoptik was also the first company responding my application.
What were your reasons for starting an apprenticeship as a precision optician?
I think it's great that it's something handcrafted. And you should have a little dexterity.
How exactly does your apprenticeship take place?
We always have two weeks of practical application in the apprenticeship centre and then we go to school for one week. So it's always nice and alternating. And in the beginning we also spent about a month in the company. There I chamfered a lot, but also measured, cleaned, cemented and lapped. A little bit of everything. That was fun.
What subjects do you study at school?
In the first year of our apprenticeship we dealt with round optics from the raw part to the finished workpiece and all possible manufacturing processes, drawings and calculations. In the second year, the focus is on plano optics and learning fields such as machine technology and CNC technology are added.
What would you say is particularly important in the profession of precision optician?
It depends on dexterity and that you work cleanly, neatly and with feeling. You should have some sensitivity. A gross motorist would not be so suitable for this profession. But almost anyone can learn that.
Would you recommend your apprenticeship to others?
Yes, in any case. The dual system, the alternation between school and apprenticeship centre, has many advantages. You can transfer theory from school into practice and you can also use practical experience at school.
What are your plans for the time after the training?
I would like to do my master craftsman and I might like to continue my training in CNC technology. I can't say that in concrete terms yet, but I would like to continue.
Dustin Engelke - Trainee industrial mechanic
"With an apprenticeship, all doors are open."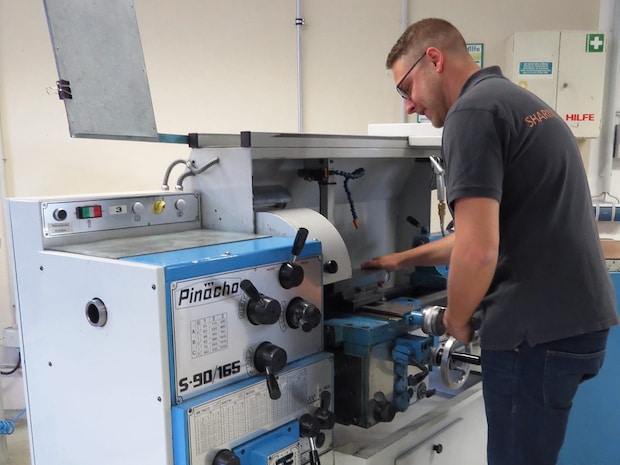 What did you do before starting your training at Jenoptik?
After graduating from high school, I studied economics at the University of Jena.
Why did you decide to train at Jenoptik?
I really like the working atmosphere at Jenoptik. I did another internship before. And I found everything quite rigid and hierarchically regulated. I didn't have that feeling at Jenoptik. No matter who comes to you, everyone is nice and wishes you only the best.
What were your reasons for starting an apprenticeship as an industrial mechanic?
With an apprenticeship you have a lot of possibilities. It is a good foundation. And I can fulfill so many fields of activity. We get a very good broadband education, so we can be useful everywhere. There is a mixture of very detailed, theoretical knowledge that can be put into practice immediately.
How exactly does your apprenticeship take place?
We have two weeks internship at the training center and one week school. After a week of school with a lot of theory, I'm always looking forward to the craftsmanship in the training centre. What we receive in theory can then be put into practice a week later. That is a nice mix.
What subjects do you study at the vocational school?
It is split into learning fields and basic training subjects. Our fields of learning are, for example, technical drawing, materials engineering, mechanical engineering. The basic subjects include English, German, economics, sports and social studies.
Do you enjoy your apprenticeship?
Yes, especially when I see, how a piece of steel is turned into something you can use. That is great.
How do you assess the supervision of the trainees at the Jena apprenticeship centre?
We have one instructor. We are 14 apprentices. And sometimes it's a bit difficult to find the right time. But they try to make evaluations in time and exactly. That's a good thing. We can try a lot here and it's not bad if something doesn't turn out the way it should. I think that's great.
What is important in the profession of industrial mechanic?
Order! Order and the fact that one does not think an industrial mechanic makes "with the axe by the forest". We work very accurately. Maybe you don't think that at first. But that is the finest mechanics.
What skills or interests should you have?
You should have an affinity for metal and machines that can process it. And you should be aware that you can get your fingers dirty. You also should have the desire for trying out.
Would you recommend your apprenticeship to others?
Yes, I think this "threesome" is great. The supervision by the training centre and the school. But we can also contact the company at any time. That works great. And I think we have a big advantage because we are here and not just joining the company. First of all, we can try it out and learn.
What tips do you have for future applicants?
Anyone who wants to gain a good foundation through a cool apprenticeship should definitely do so. Especially at Jenoptik. I think the support from the company side is great. The colleagues are very nice. And it takes you further in every respect, personally and of course in terms of qualifications.
What plans do you have for the time after the apprenticeship?
I intend to do the technician. And I am definitely aiming for the master. But everything little by little. I find it strange that most people think that when you have an education, you are finished. But it goes on and on. For example, if you would like to study part-time, you can do that. All doors are open to you.
Experience reports from regular employees
Dave Kruise - Sales, Marketing and Communications
Dave Kruise cruises through a diverse, challenging career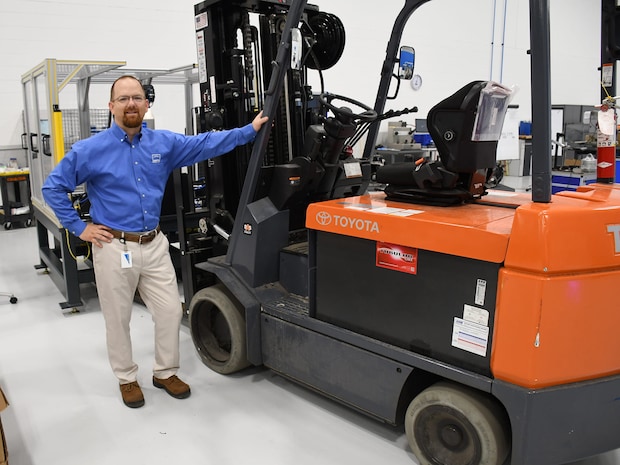 Position: Sales, Marketing and Communications for the Light & Production Division
Location: Rochester Hills, Michigan facility
Employed by Jenoptik since: 1996
On any given workday, you can find Dave Kruise planning advertising campaigns, working on promotional videos and creating sales presentations. But you might also find him in the warehouse – driving a forklift to move boxes of tradeshow materials.
"Most people don't expect a sales and marketing professional to be able to use the Hi-Lo forklift or the 20-ton crane," he says. "But after more than two decades working at Jenopitk, I've picked up a few surprising skills."
Dave's Jenoptik resume reads like a corporate directory: Purchasing, assembly, shipping, inventory, order entry and invoicing … among others. Here, he gives us the details of how he transitioned into the marketing field and his thoughts on his varied career.
How did you make the switch to your current position?
The company needed someone to create documentation on our completed automotive systems. I was asked to take over those responsibilities. After a few months developing sales collaterals, I moved into planning tradeshows and overseeing marketing programs.
What is most rewarding about your job?
I get to work with a great group of people every day. My coworkers have become my family away from home.
What did you do before joining Jenoptik?
Wow. That was a long time ago! I worked several different jobs, including shipping and receiving at an auto parts warehouse. I worked in fast food for a bit. I also had a job maintaining a golf course and one as a hotel front desk clerk. During college, I worked up to three jobs at a time to pay the bills.
What has been your favorite project at Jenoptik?
I would say organizing our largest North American tradeshow, the International Manufacturing Technology Show (ITMS). More than 100,000 people attend the show every year. ITMS is a huge risk/reward project, because so much can go wrong. You have to carefully monitor every detail. But in the end, it's a great feeling to complete an event of this magnitude. And I get to do it every two years!
How has Jenoptik helped your career development?
I took advantage of Jenoptik's tuition reimbursement program to complete my technical communications degree. Jenoptik has also allowed me to attend educational seminars related to tradeshows.
What advice do you have for prospective Jenoptik candidates?
Take the time to get to know everyone around you. Volunteer to help in other departments, even if it's not in your job description. Learn as many skills you can today because you never know what opportunities might come your way tomorrow.
What is the biggest career lesson you've learned?
Respect your coworkers. You need to be able to work with many different types of people across departments, facilities and business units. After 22 years, I know the importance of being able to work with just about anyone, regardless of our differences. At the end of the day, we're all working toward the same professional goal.
What do you like to do in your spare time?
I like working with my hands. I've helped build several homes; I'm pretty good at roofing jobs. I also enjoy repairing cars. When I'm not getting dirty, I like to read and play computer games.
Beth McDonald - Senior Inside Sales Coordinator
Beth McDonald Skillfully Juggles Family and Career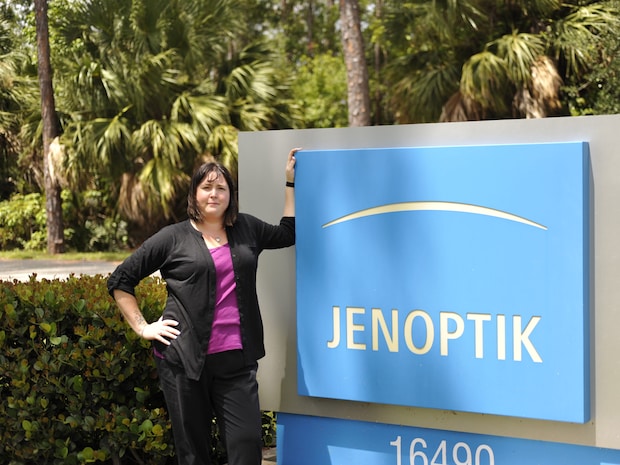 Position: Senior Inside Sales Coordinator
Location: Jupiter, Florida facility
Employed by Jenoptik since: 2011
To know Beth McDonald is to know how much friends and family mean to her. She's the leader of her daughter's Girl Scout troop, and she credits her husband for her current rewarding career path. And she says it's the friendly people she works with that make Jenoptik feel like family.
In her role, Beth helps business development managers by preparing customer quotes and processing purchase orders. She also serves key customers, answers questions and provides essential account support. She even covers the front desk when necessary.
Beth says she enjoys filling in at reception because, "It's where I started at Jenoptik. It's important for visitors to see a smiling face when they walk through our door."
Here, she gives us more details on her career path and passions.
How did you become interested in Jenoptik?
My husband has worked for Jenoptik for 12 years as an assembly specialist. I was always impressed with the projects he worked on – and the people he worked with. So when the opportunity came for me to join the team, I jumped at it. Seven years later, I still look forward to coming to work each day.
So your husband suggested you apply?
Yes. I was taking time off to raise our daughter. When I was ready to return to work, my husband told me the company was looking for a part-time receptionist. I applied and got the job. As the company grew, I moved to full-time status and took on more responsibilities. That's one of the great things about working here. There's opportunity to advance.
What is your professional background?
Before Jenoptik, I was a nursing assistant working on the surgical floor and in the emergency room. I was committed to helping patients and their families. These people were going through very difficult times so I did what I could to brighten their day. Then I moved on to helping animals as a veterinary technician. I've loved animals my entire life.
What makes you proud to work at the company?
My husband works on the high-performance lenses for major theme park rides around the world. When we take our daughter to the parks, she tells people that her daddy helped make the rides.How special is that!
What's the most rewarding part of your job?
I enjoy getting feedback from customers about the products we manufacture. Their appreciation and satisfaction makes all the hard work worth it.
What advice do you have for prospective Jenoptik candidates?
Teamwork is the key to success. I'm fortunate to have worked with many different departments during my time here. This interaction has connected me with great people and increased my knowledge of our company and customers.
What would someone be surprised to learn about you?
I like to do acrylic painting in my spare time. In fact, I just finished a painting for my in-laws as a housewarming gift. My father-in-law insists my paintings are even better than the ones hanging in museums!
Chris Palermiti - System Testing Manager
Chris Palermiti Turns a Childhood Hobby into a Rewarding Career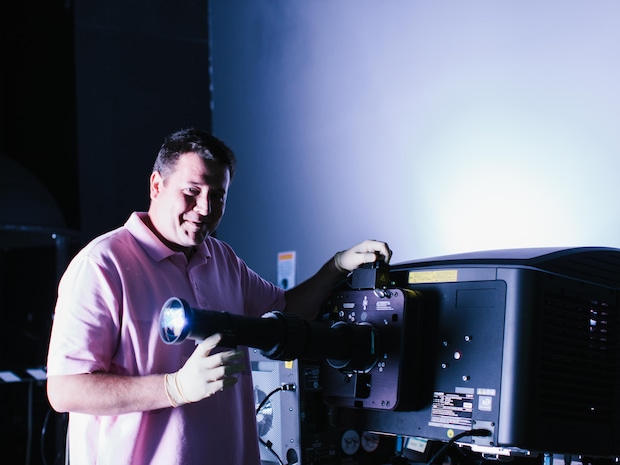 Position: System Testing Manager
Location: Jupiter, Florida facility
Employed by Jenoptik since: 2004
For Florida native Chris Palermiti (nickname "Chris P" or "Crispy"), optics is in his blood. As a child, he and his dad – who worked in optical engineering – would spend hours building telescopes at home. Little did he know then, this would become a lifelong passion and set the groundwork for his career at Jenoptik.
Interestingly, when Chris started at Jenoptik, it wasn't in his current role. Instead, he worked in the shipping and assemblies departments. He enjoyed his job, but he knew he could do more. Two years after joining the Jenoptik team, he went back to college and finished his degree. It proved to be an extremely advantageous move.
After graduation, Chris was offered a position in systems testing. Today, he manages an expert team of 13 system test technicians and specialists. Here, Chris gives us more insight into his position and career path.
How has Jenoptik helped you in your career development?
Jenoptik has always supported my career goals. The company's tuition reimbursement program helped me offset the costs of going back to school while still working full time. Jenoptik also gave me the opportunity to attend training programs to further my knowledge. Most importantly, Jenoptik has allowed me to work alongside some of the best in the business – and benefit from their expertise.
What are your key responsibilities at Jenoptik?
My team and I work closely with the operations group to ensure the products we manufacture, build and test are delivered on time – without sacrificing quality. I also collaborate with our engineering department on prototypes and test fixtures. Plus, I frequently travel to customer facilities to provide onsite support.
What do you find most rewarding about your job?
Not many people understand what I do. It's kind of like being a secret super hero! If you're in the industry, however, you know how optics and optical systems are used in everyday life. Working on these programs – and helping to improve the quality of life on our planet – makes it all worthwhile.
What types of projects do you enjoy most?
Our medical device systems play a role in treating and curing diseases. It's an incredible feeling knowing you contributed to a potentially lifesaving solution. With that said, our entertainment projects are really fun. These lenses go into theme parks, theaters and planetariums around the world – venues that bring joy to millions of people. I love hearing random strangers in theme parks say, "That was the coolest ride ever! It was so crisp and clear."
What advice do you have for prospective Jenoptik candidates?
Go for it! Optics and photonics is a very niche market with a surprisingly broad range of career paths. It's important to be patient, though, because there's much to learn in these fields. With time and dedication, you will advance further than you can imagine and contribute to making the world a better place for generations to come.
What would someone be surprised to learn about you?
My all-time favorite movie is Jaws. Even though I grew up in Florida and have always loved to fish, I'm terrified of swimming in the ocean because of sharks. I tried to overcome my fear by getting my diver's certification in 2010. I did two open water dives, but haven't been in the ocean since. Ironically, I still hope to cage dive with great white sharks someday.
Chong Guan - Application engineer
Chong Guan enjoys to have some challenges in her job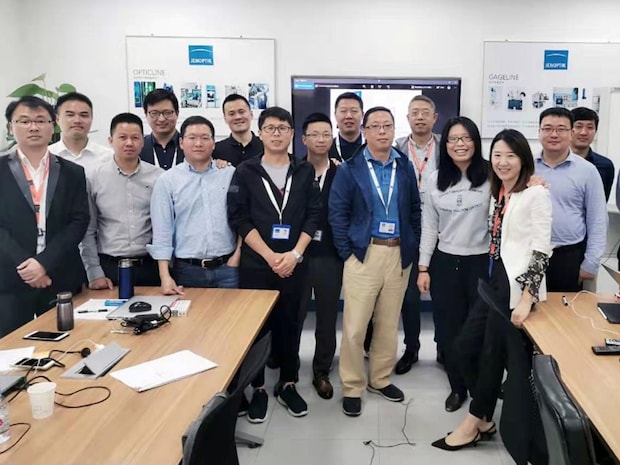 What is your position at Jenoptik and how did your career path develop?
I have been an application engineer in the 3D metrology department of Otto Vision GmbH since 2019. As a native Chinese speaker, I additionally support Jenoptik in general matters related to Asia and China, especially translation and business trips within China.
How do you and your team work with colleagues in China?
In recent years, I have traveled to China a lot - at least as long as Corona allowed. To improve the collaboration with our Chinese colleagues, I often support the team in Shanghai and customers in China remotely from Germany. It's very nice to see how well the collaboration works - especially because I see that we can perform excellently as a team when we have common goals and a common approach to work. Working feels so easy because people's hearts are in it.
How do you implement our corporate values "open, driving, confident"?
Due to globalization, dynamic markets and, not least, the Corona crisis, it is becoming increasingly important to be flexible and to think "out-of-the-box". Through teamwork, agility, and digital and innovative solutions, we have been able to respond confidently to new challenges while creating a great working atmosphere in our team.
Why did you choose Jenoptik?
Because I believe I can apply my skills perfectly at Jenoptik. I am like a "hybrid", not only from a cultural perspective, but also from a content perspective. In my job, I hope that through hard work and continuous learning, I can combine my cultural background and my engineering education background and contribute to my team and the company accordingly.
What do you particularly like about your job at Jenoptik?
In 2016, I came into contact with industrial metrology as a working student/minijob. Since then, I've realized that from applying a new technology to a practical field to launching new products into unknown markets takes a lot of effort, the right strategy, and great collaboration. I really enjoy facing the unknown and having unlimited opportunities and challenges. This curiosity keeps me passionate about my work and the harmonious team atmosphere makes me feel very happy and grateful to have this job.
Further experience reports
Intern and working student in project management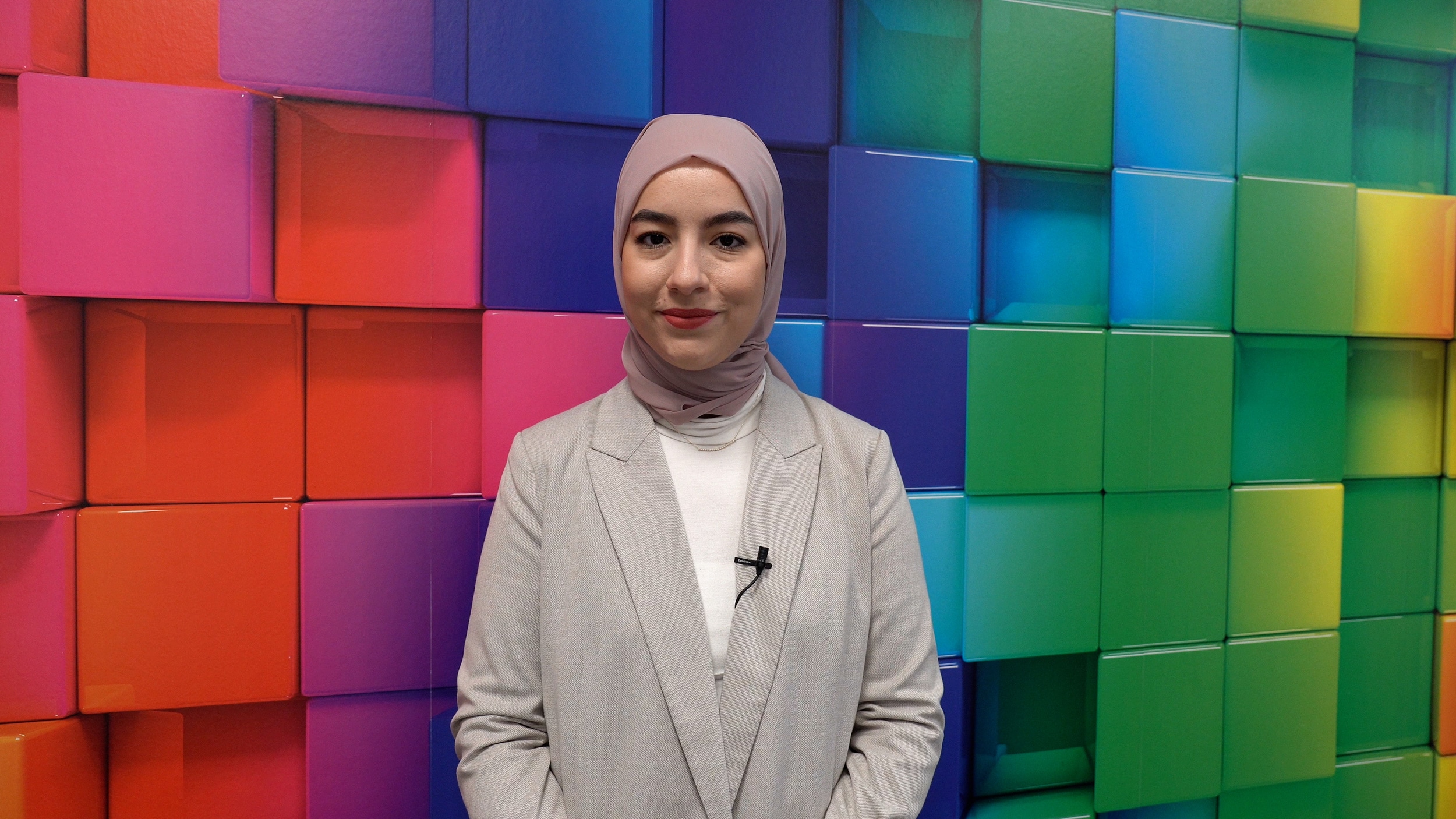 Through the master thesis to his new job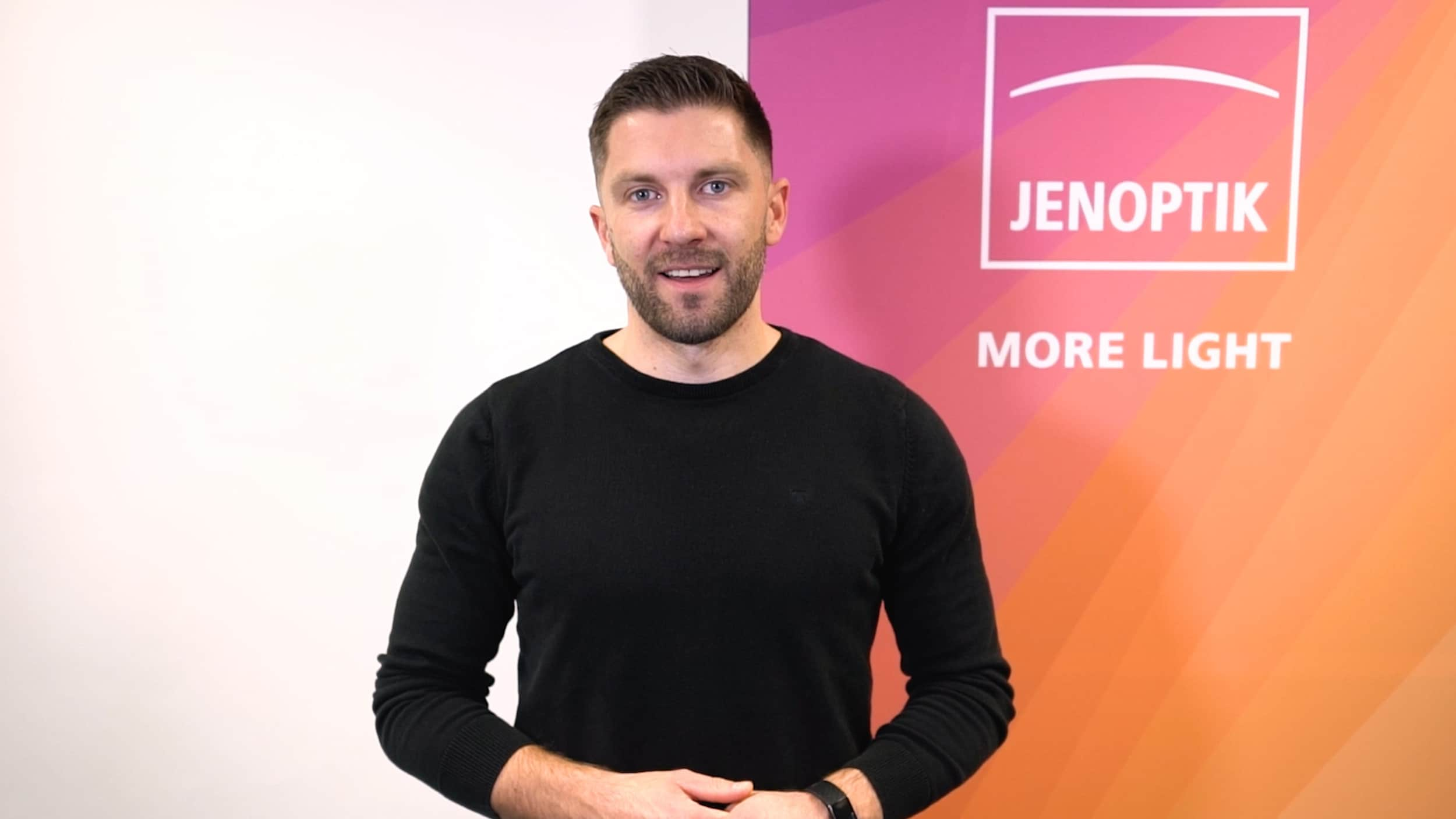 Head of the "Data and Artificial Intelligence" team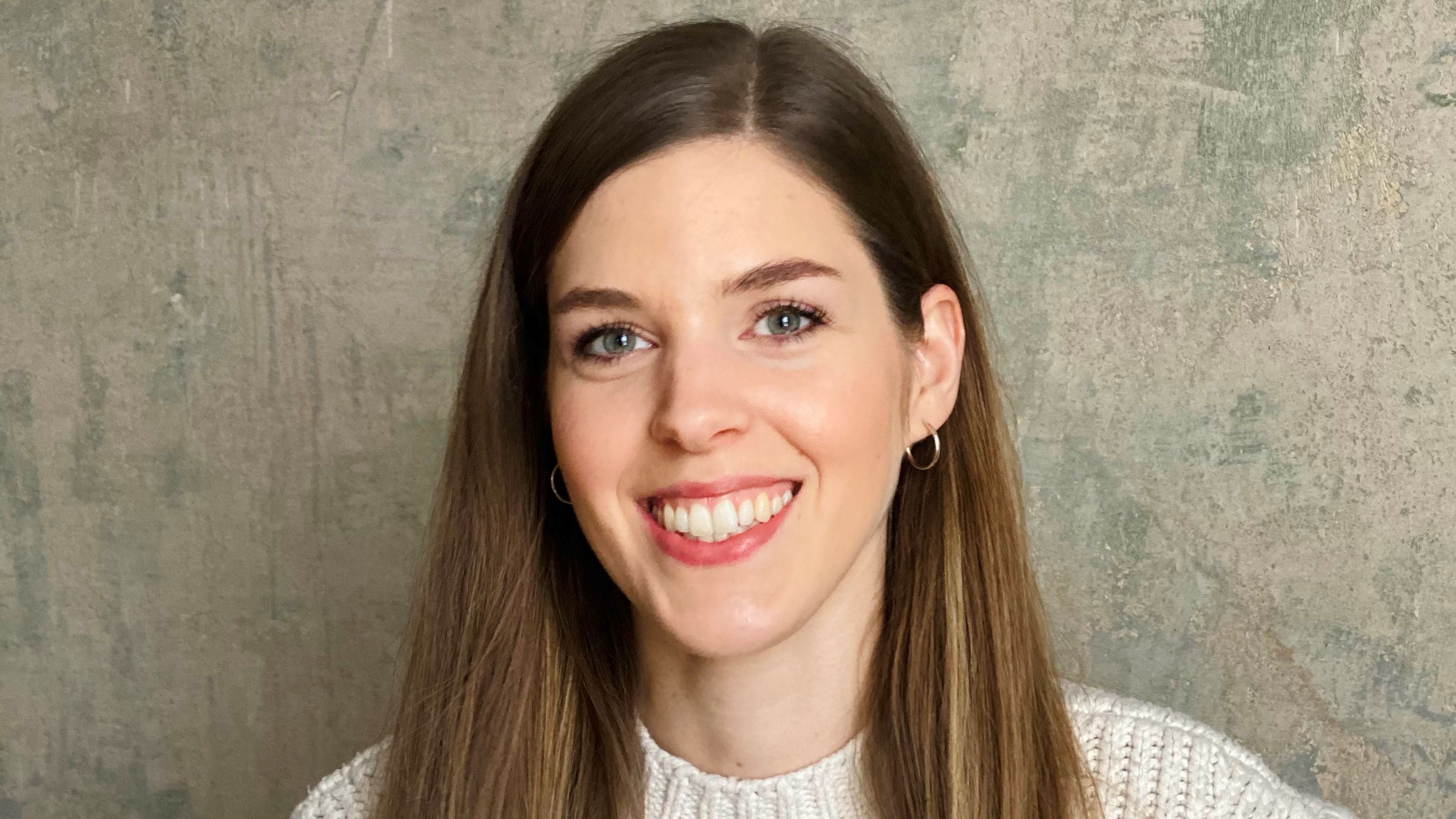 From precision optician to a dual study program at Jenoptik