First listen, then act
In order to effect the necessary culture change in the company and create a common understanding of what Jenoptik is, the first thing we needed to do was listen and give a voice to the people who know the company best: our employees and customers.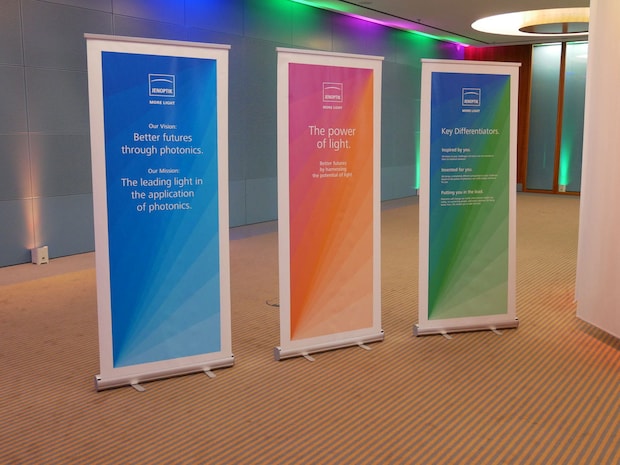 Jenoptik is coming to a party: What kind of person entering the room is Jenoptik? And what will Jenoptik look like in five years? These were just two of many questions that more than 400 Jenoptik employees were asked to answer at workshops in the spring of 2018. Over 500 customers and partners also gave their feedback.
Employees all around the world personified Jenoptik as it stands today in very similar ways: as a 50-year-old man named Helmut in a gray suit with a little extra fat around the waistline and a German compact car who isn't very easy to engage in conversation. Respondents – from Shanghai to Jena to Florida – also had a very uniform idea of the person they see as Jenoptik in the future: a man named Alex. He is a little younger than Helmut, may have a new tailor, and has seen the world. The Jenoptik of tomorrow as dynamic, confident, inspiring, multicultural, and approachable.
These and many more extremely revealing results of our major corporate culture and brand project were brought together in a common brand house. Its elements are the Jenoptik values "open", "driving", and "confident", our unique selling points, our vision and mission, and the positioning of the Jenoptik brand.
At the same time, we worked on Jenoptik's brand identity, which visually embodies the topic of "More Light" and imbues the company with more color – six color rays that are both equal and diverse. We have been presenting, discussing, and sharpening our new common identity on a company-wide "More Light Tour" covering all major locations since January 2019. The foundations of a common understanding of shared values and the effective and confident development of the brand, in which our employees take a proactive role, have now been successfully laid.