RecommendMail Facebook Twitter LinkedIn
A danger foreseen is half avoided: How infrared cameras can improve road safety in tunnels
Fire in the tunnel! Darkness, panic and no exit in sight. A fire in a longer road tunnel is definitely one of the worst accident scenarios that we can imagine. In addition to functioning fire extinguishing and rescue systems, preventive fire protection with infrared cameras is one of the most efficient measures for more traffic safety in this area of road traffic.
, Daniel Brenner
Heavy-duty trucks pose a particular risk. The heavy strain of tires, wheel bearings and brakes by pressure and friction can lead to overheating and, in the worst case, to fire. Airflow cools heated brakes and tires, but it can always happen that temperatures exceed a critical point and ignite a fire. On the free highway or motorway, this is not a problem.
For example, it is common for truck drivers to simply "drive off" a tire that has caught fire. However, it becomes dangerous in a traffic jam, especially if this traffic jam occurs within a long tunnel.
Fire prevention for highway tunnels: Identify and prevent potential dangers early on with infrared cameras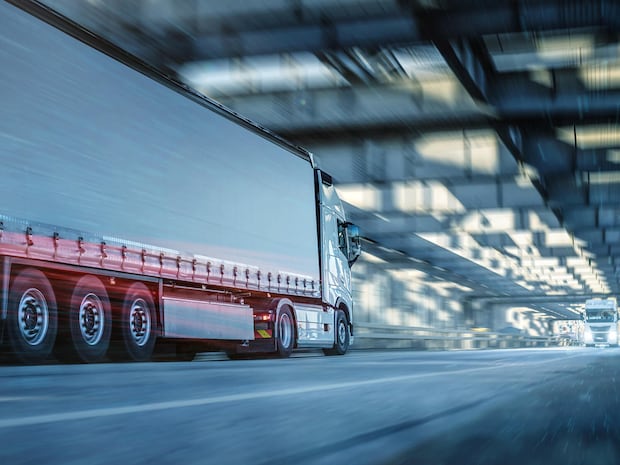 Thermal imaging technology and infrared cameras can help to minimize the risk of such fires in advance. Already several hundred meters before the tunnel entrance, infrared cameras (also: thermal imaging cameras or thermography cameras) positioned on the roadside automatically record the temperature profiles of passing vehicles.
Image analysis software evaluates the images in fractions of a second and raises the alarm if a vehicle is at critical temperatures. Particular attention is paid to wheels, brakes, and bearings.
The alarm can be used, for example, to activate a traffic light system on the highway that warns the driver of the vehicle concerned or blocks the tunnel for traffic as quickly as possible to prevent further road users from driving into danger.
Clarity in critical situations: thermal imaging cameras for tunnel surveillance and fire alarm and as personal assistance equipment for first responders and rescue teams
But infrared cameras and thermal imaging cameras also perform invaluable services in the early detection of fires within a tunnel. With a long range, they cover large areas, help to quickly locate temperature anomalies or fire sources and provide important information for rescue workers.
Infrared cameras installed as surveillance cameras in the tunnel detect even the smallest sources of fire much earlier than conventional pyrometer technology. This saves first responders and recues services valuable time for warning road users and preparing for firefighting.
In the event of a fire, mobile thermal imaging cameras provide situational awareness and overview for fire fighters and emergency services in critical situations: the infrared technology delivers clear images of the scene even in complete darkness and provide vision through thick smoke, thus enabling orientation and the detection of people or hidden embers.
Visualize and measure heat distributions with reliable infrared cameras and IR camera modules from Jenoptik
High image resolution, i.e. a large number of IR pixels, and high temperature resolution, the so-called NETD, are important requirements for infrared cameras for this type of safety & security application. With the EVIDIR alpha and Blackbird precision series, Jenoptik offers infrared cameras and OEM camera modules with radiometric calibration that not only impress with their technical performance. Thanks to their modular and small design, they are also ideally suited for integration into traffic safety technology or personal equipment for fire fighters and rescue services.
Would you like to find out more about our EVIDIR alpha and Blackbird Precision series and how these cameras reliably identify heat anomalies and measure temperatures precisely? Contact us today and benefit from excellent quality thermal images and temperature measurement data.
Product recommendation
---
---
About Daniel Brenner
Measuring temperatures quickly and contact-free with the highest precision and transforming them into clear thermal images is the focus of Dr. Daniel Brenner. The engineer, who holds a doctorate as well as a MBA, worked for Jenoptik as product manager for thermography cameras and infrared systems from 2017 to 2022 and supported customers from research, industry or safety and security in various fields of application where the measurement and analysis of temperature data are essential.