RecommendMail Facebook Twitter LinkedIn
Digitization

Health & Science

Tech Talk
Gaining Competitive Advantage in the Coming Generation of Digital Cell Imaging in Life Science
Today's customers in the field of life science and in vitro diagnostics want complete, flexible workflow systems that can process in vitro samples quickly with a minimum of human error. Researchers and technicians in cell imaging, and molecular diagnostics in the life sciences are looking for high automation in a small footprint. Here's how to cater to that market.
, Ute Hofmann
Providing accessible solutions in novel cell imaging applications
To gain competitive advantage and dominate the market, understanding the goals of the specific cell imaging application is key. This is a challenge if the application is innovative, and by no means established in the marketplace so that users may have time to express their requirements. Time to market becomes a key issue, since there is an inherent advantage in being a recognized pioneer and leader. It's a matter of timing to launch a highly competent product, beat your rivals to market and win market share. Additionally, it's a great advantage to be able to develop generations 2 and 3 of your product efficiently, without having to start from scratch every time.
Microscopy's evolution over the past decades has transformed the technology. Compound microscopes advanced to electron microscopy, giving us insights that were impossible before, furthering the understanding of biological structures and elucidating complex molecular mechanisms. The digitalization of microscopy together with the advent of antibody-fluorophore technology launched a new era. Empowering scientists and engineers to incorporate microscopy into specific targeted multiplex technologies, digitalization unlocked a vast array of possibilities. Digitalization allows for microscopy to become accessible to a wide range of scientific applications, the integration of customized software analysis, and novel methods of detection and analysis, shifting microscopic research from mere observation at the lab bench to highly targeted, quantitative analysis.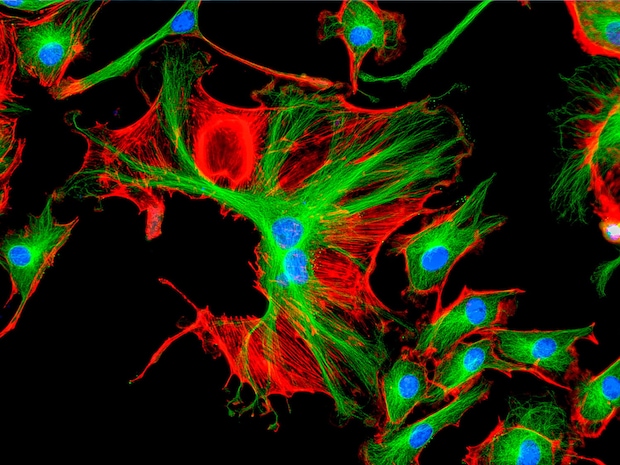 Digital fluorescence and chemiluminescence imaging have empowered Confocal Microscopy, Multiplex Western Blotting, Next Generation Sequencing, High Content Analysis, High Throughput Screening and Live Cell Imaging, amongst many other groundbreaking applications. The next era of applications in cell imaging and detection, from rapid microbial and cancer diagnostics, microtumor analysis to circulating tumor cell DNA detection, will likely become even more specific in its targeting of specific epitopes and DNA and RNA sequences. The dedication of the device to the application and the success of analysis in the hands of any operator will be key to the success of your life science imaging product.
Ultimately, integrated digital microscopy enables long term predictive analytics, offering users the ability to anticipate next steps faster (e.g. when to introduce a drug or probe) and with more precision. These types of applications place great emphasis on maintaining the health and viability of cells, meaning that the vessel (the chamber or incubator) supporting the cells is just as important (if not more important) than the imaging system. Miniaturization of the imaging system affords more flexibility in the device that is keeping the cells alive and healthy.
Towards operator-independent fit-for-purpose imaging systems
The automation of imaging and measurement workflow allows for reduced operator intervention which minimizes errors. The beauty of an integrated approach to digital bio-imaging is that it is straightforward and easy to use from an operator point of view, you can write dedicated software for the application, and no special training or high-level expertise is required to run the application. Imaging and assay results become independent of the user. Subsequently, automation leads to increased reproducibility. Reproducibility, particularly of cell-based assays, is critical. Integrated digital bio-imaging allows for the addition of features to increase reproducibility and therefore increase reliability and robustness of crucial analytics in research and diagnostic settings. Integrated software tools further streamline complex measurements. For instruments to be seamlessly integrated in a complex diagnostic workflow, ease of use is an important aspect to consider. You can help users to comfortably operate instruments over long periods of time by paying attention to operator ergonomics; integrated digital microscopy facilitates this.
Image quality and therefore optics are fundamental aspects of successful digital microscopy solutions. A large field of view at high magnifications as well as high resolution are imperative for imaging applications in the life sciences. The demand for less expensive and rapid diagnostic procedures and computer-aided diagnostic tools is high, and so are applications to rapidly share images between locations. Integrated digital microscopy offers unrivaled advantages in flexibility and size. A smaller device footprint improves the fit on the lab bench, allows you to combine options with other analytics tools (e.g. adding your instrument into a robot liquid handler), allowing for more sophisticated analytics, more flexible instrumentation, and a wider range of applications. Quite simply: miniaturization can often give the instrument dedicated functionality and consequently greater focused performance.
Detecting tumor DNA from circulating cells – an example of complete dedication to a target application
Vital to the performance of an early cancer test might be efficient, fast, and reliable methods to detect and identify tumor cells in patients. By detecting circulating tumor cells present in the bloodstream, neoplasia can be recognized early. The detection and identification of circulating tumor cells in a patient's blood sample is an elegant, minimally invasive solution for early, precise cancer detection and diagnosis. However, the first methods to harvest and identify circulating tumor cells required extensive immunologic and analytical expertise and are resource intensive – none of which contribute to consistent and high-volume throughput.
JENOPTIK SYIONS® integrated digital imaging systems can eliminate the multitude of sample transfer steps required in manual analysis of circulating tumor cells, with the added advantage of precise, accurate, and standardized results that are operator-independent. By placing the miniaturized optical engine in close proximity of the sampling method, a dedicated, automated, high-performance system is within reach.
JENOPTIK SYIONS®: your competitive advantage, squared
For many innovative life science companies, their expertise lies in a deep expertise of proprietary biochemistry, cell harvesting, cloning or molecular biology, but not necessarily the design and construction of a go-to-market imaging instrument system. JENOPTIK SYIONS® magnifies the power of your innovation by offering a platform to efficiently develop an automated workflow, better operator ergonomics, higher reproducibility, higher quality images, a smaller device footprint, flexible instrument design (think of the next generations of instruments), enabling you to efficiently transform your specific application of cell or molecular biological analysis to a miniaturized digital imaging diagnostics instrument in record time.
JENOPTIK SYIONS® is an acronym for Shaping Your Imaging solutiONS. Its goal is to empower every life science company that requires imaging to bring their technology to market as efficiently and powerfully as possible. Read the next articles in the series to understand the considerations to take into account to design your imaging solution or simply contact us for more information.
Product Recommendation
---
---
About Ute Hofmann
New enabling technologies and methods constantly being researched and developed to ensure better prevention, diagnosis and treatment of diseases are her daily motivation. Dr. Ute Hofmann joined Jenoptik in 2019 as an experienced product manager for life science and diagnostics with a focus on cellular and molecular applications. She is responsible for Jenoptik's bioimaging solutions and supports the success of OEM customers at the interfaces of R&D and sales.