RecommendMail Facebook LinkedIn
Smart Manufacturing

Industry 4.0
My employee is a robot: How robotics is changing production processes
Heavy loads, small-scale work, and repetitive processes are just some of the problems that many manufacturers and their employees face. The search for solutions to these issues increasingly fall on innovative robotic and automation technologies. While advantageous in many ways, the question remains; will machines replace humans in the long term, or will they work side-by-side to boost overall work performance?
, Claudia Barnert
Automation has been a ubiquitous topic in the manufacturing industry for more than 50 years. A very simple example of this is assembly line systems. These systems are integral to the production processes of virtually all manufacturers, and it is hard to imagine not utilizing them where it makes the most sense. According to the international Federation of Robotics, approximately four million industrial robots will be in use by 2022. The field of robotics is constantly advancing the next generation of robots as essential components of an innovative and future-oriented production landscape.
More and more producers are implementing these types of technologies into their work processes, in an effort to eliminate workplace hazards, reduce repetitive manual labor, increase efficiency, and much more. Thanks to state of the art robotic technologies, this makes it possible to reduce costs by shifting available resources to the best point of impact.
Automation solutions deliver production critical resources right where they are needed most. Robots can solve an entire range of challenges starting with small-scale production of fragile individual parts, all the way up to handling heavy industrial sized parts. Automation solutions work extremely quickly, delivering consistent quality, and a precision that is hard to match through manual labor.
Where humans reach their limits, robotics forge ahead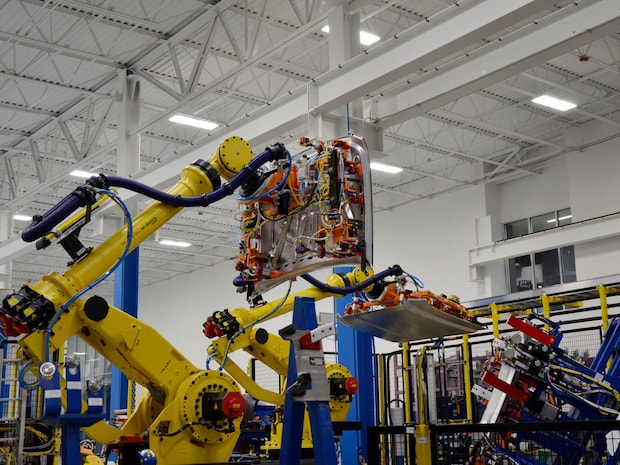 Whether your employees are lifting heavy parts, or spending a full 8 hour shift screwing parts together, a doctor's visit isn't too far away. Accidents at work and errors in production become commonplace when manual labor is utilized in these instances. Rather than replace manual labor entirely, it is becoming clear that robotic solutions can be used in manufacturing at collaborative critical points in the production process.
Robots or cobots? What is the difference?
The word "cobot" is derived from "collaborative robot." Robots act alone, without human intervention. Cobots, on the other hand, work hand in hand with humans and can thus support employees in delicate production processes.
Quality improvement through robotics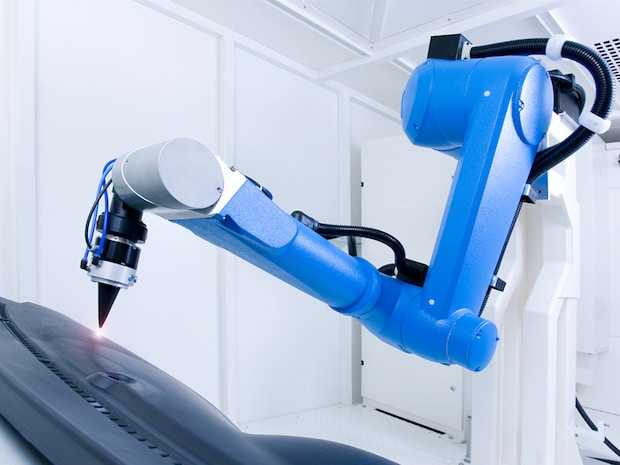 In addition to the benefits that automation offers to employees, the final finished product also benefits tremendously. Due to the precision that robotic technology offers, manufacturers will see a significant improvement in part quality. Work processes are also traceable, thanks to industry 4.0 technologies, making errors easier to identify, trace, and correct in the shortest possible amount of time.
How photonics supports robots
An essential component of industrial robots are individual parts such as lasers. If certain parts require the smallest of holes, this task is sometimes too delicate for the human hand. Especially the perforation of plastic parts for AirBags requires accuracy to ensure the safety of the product and thus the end user. The precision of robots and cobots does a reliable job in this case.
Advantages of robotics:
Reduced workload for employees
Reduction of health hazards
Precise, fast and constant part quality
Cost reduction
Advantages of the cobots:
Flexible use
Close support for employees
Intuitive user interface
Adaptive artificial intelligence
Robotics meets artificial intelligence
The interaction of photonics, robotics, and artificial intelligence is the key to your manufacturing success. AI is becoming increasingly relevant, with computers learning independently through collected data, to improve and expand workflow processes. Robotics also use these technologies for learning, adopting, and applying certain motion sequences independent of human programing.
Robotics as a financial relief for companies
Investing in robotic technologies can be seen as a financial risk at first, but these products will quickly pay for themselves. Typical robots cost about 3.50 to $15 per hour, with cobots being the most cost effective at the lower end of the spectrum. Cobots have an intuitive user interface, helping minimize costs by eliminating things like elaborate training. In addition, some cobots already use artificial intelligence to learn over time – reducing programming costs across the board.
Despite the tight economic situation, investing in automation solutions remains a viable option for many companies. From single cell automation technologies, to full production line automation solutions, automation can be cost effectively integrated onto your production floor.
Jenoptik is your reliable OEM partner for key automation, laser processing, and quality control technologies. By collaborating with us, you get access to our extensive knowledge in combining all three of these technologies into a final solution that turns your vision into reality.
Who can use robotics?
Not only are complete new installations possible, but existing processes can also be equipped with robotics from Jenoptik.

Just about any manufacturer can incorporate automation solutions and robotics into their production processes these days, as prices for these technologies are steadily falling. What's more, manufacturing processes can be optimized and made more efficient almost anywhere.

The time has come to incorporate robotics and cobots into your workflows as well and perfect them! Are you interested in Jenoptik products that relieve your employees and contribute to an innovative process flow? Then contact us!
Product recommendations
---
---
About Claudia Barnert
Claudia Barnert is responsible for Marketing & Communication in the Light & Production division. She started at Jenoptik in 1998 with an apprenticeship as the first media designer for digital and print media. She has been with Jenoptik for more than 20 years and has built up a wealth of experience in various positions and a good network, not least thanks to various training and further education courses. An open and regular exchange with colleagues from the other divisions is just as much a must-have for her as following trends in customer contact. Her current focus is primarily on the expansion of digital media and communication, which is also gaining in importance in mechanical engineering.