Industry 4.0

Digitization

Smart Manufacturing
Developing the tires of tomorrow with laser processing
The prototype phase is an expensive step on the way to getting a new product on the road. Literally, in some cases: As the only point of contact with the road, car tires are particularly important for the safety, comfort and energy efficiency of a vehicle. However, current processes in tire development are far removed from rapid prototyping. Until now.
, Torsten Reichl
The demands on today's tires are high and could be seen to contradict one another in some respects: On the one hand, modern tires should offer the best possible grip under an ever-widening range of conditions, and, on the other, have as little rolling resistance as possible in order to save petrol or electricity. In addition, they need to be robust and durable. We also want them to roll quietly and cushion small bumps so we don't notice them. The ongoing trend towards all-season tires increases the balancing act. In the period from 2016 to 2020, the market share of newly sold all-season tires increased by over 70 percent. The market demands all-rounders.
Despite the increasingly broader range of requirements, tire specialization is also on the rise: Vehicle manufacturers want individual tire variants for their respective models. This means enormous development costs for tires manufacturers. The competition is just as keen here as the pressure to innovate.
Before a new tire is launched on the market, it goes through a prototype phase. The rubber compound and the profile are thoroughly tested. The profile is particularly important for safety and driving characteristics: The tire tread is decisive for traction on snow and ice for winter tires and all-year-round models, and for aquaplaning properties for summer tires. The rolling noise and a large part of the rolling resistance also depend on the design of the profile.
The multitude of requirements makes the development of innovative tire treads important and at the same time complex. Tire manufacturers face a challenge here. Tires can be "baked" in machine-manufactured casting molds during series production, but solid casting molds are far too time-consuming and expensive for prototypes and product samples.
For this reason, new types of tires are usually manufactured manually still to this day. Tedious, skilled manual work by experts is required to carve the tread for tire prototypes.
Only a few specialized "tire whisperers" master the sophisticated craftsmanship of carving complex tread designs into a tire blank with a great deal of patience and precision. It takes around 40 hours – an entire working week – to produce a single tire prototype with a complex profile. That's why many tire manufacturers are far away from real rapid prototyping, which is what development departments want nowadays.
Rapid prototyping for tire treads
One reason why profile prototypes have so far often been produced manually: Tire blanks are not perfect and identical, for example they may have a slight height or lateral run-out. The existing semi-automated machine solutions for prototyping speed up the process only minimally. Here, programming and preparation significantly slow down production. These factors make automated machining difficult.
At least until now.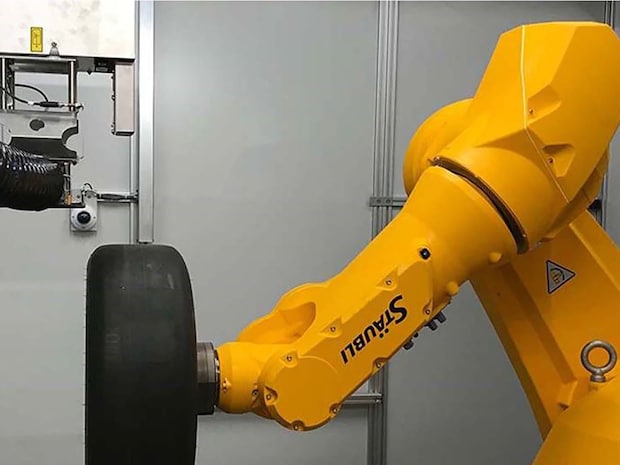 Innovative, efficient laser processing for the tires of tomorrow
With pulsed laser processing, JENscan® Tire from Jenoptik enables tire prototypes to be produced significantly faster and with less effort. CAD data quickly becomes almost fully automated real prototypes in order to be able to test new ideas for tires profiles in real life the next day. Laser processing of the tire blanks is completely contactless. Jenoptik is implementing its proven expertise in laser machining of workpieces in a new field of application.
Automatic wheel change is possible in the full expansion stage; for example so that the machine can work over the weekend. Combined with the prepared Industry 4.0 capability, the operator would be able to observe the machining process from home.
With its expertise in component evaluation and laser processing, Jenoptik developed JENscan® Tire, a system that determines and compensates for variances in the raw tire, so that identical results can be produced at any time.
Advantages of laser carving
faster than manual and semi-automated processes
200μm structural width for precise machining
reduced development costs
enables faster product iteration.
The greatest practical advantage of JENscan® Tire is the process speed: Instead of producing just one tire prototype per working week, a single laser machine can process more than half a dozen tires per week. A prototype is ready to use in less than 24 hours. JENscan® Tire doesn't know when it's time to go home. This means that changes to the profile design can be tested in practice the next day. This shortens development cycles, increases the speed of innovation and reduces the time to market for new models.
With a minimum structure width of 0.2 millimeters, laser processing is suitable for the finest profiles and is gentle on the material at the same time. All tests so far show that the laser has no negative effect on the material properties of the rubber compound. Fine slats for winter profiles – the greatest workload in tire prototypes – are therefore no longer a problem for automated production.
The intelligence lies in the software
The greatest challenge here is not only to determine the tire blank precisely and to provide it with a profile by laser machining. Instead, the greatest difficulty is data processing. Tire manufacturers each use different data formats for the design and profile data. The design data with which engineers develop the tire profiles are not designed for 3D laser processing and, in addition, the data structure and file formats differ significantly from manufacturer to manufacturer in practice. Jenoptik's USP is its own solution for processing the most uniform CAD data format possible and making it usable for the machine.
The product JENscan® Tire was born from practical experience and originates from direct cooperation with a well-known tire manufacturer. The first system in which a tire blank quickly becomes a prototype for the test track has been working successfully for two years now. Jenoptik supports tire manufacturers in the complex and expensive development of products with cost savings and enormous time savings.
Experience JENscan® Tire live to see the benefits of tire carving with laser
Jenoptik operates its own customer application center in Jena in order to develop solutions there and enable customers to experience Jenoptik laser technology in practice under real conditions. Jenoptik supports interested parties with profile samples and consultation in evaluating how JENscan® Tire can be integrated into customized development processes.
---
About Torsten Reichl
Torsten Reichl has held various positions at Jenoptik since 2007. As Product Manager Laser Processing, he is responsible for the area of laser cutting systems at Jenoptik. Together with his team, he is responsible for the design and development of reliable and efficient laser cutting systems. A particular focus of his work is on the JENscan® Tire, JENOPTIK-VOTAN® BIM and JENOPTIK-VOTAN® S product series.