Digital art exhibition: Sabrina Ratté
Jenoptik will be showing the video art "Florescendi" by Canadian artist Sabrina Ratté on the facade of the Ernst Abbe high-rise in Jena in March 2023.
Jenoptik's HQ, Ernst Abbe high-rise, Carl-Zeiss-Str. 1, 07743 Jena, Germany
tangente digital art: Sabrina Ratté l "Florescendi"
March 13 to 31, 2023 at 7:30, 8:00, 8:30 and 9:00 p.m. each day
As of March 26, the projection times will be shifted back by 30 minutes each.
Accompanying information on the exhibition is available in the foyer of the Ernst Abbe building.
The animation "Florescendi" was adapted by the artist to be shown in large format in the public space at the Ernst Abbe high-rise in Jena. The art projection is Jenoptik's second digital art exhibition after the Berlin-based artist Julian Loscher in spring 2022.
With this modern form of the traditional art exhibition series "tangent", which has been in existence since 1994, Jenoptik combines its long-standing commitment to art with modern digital forms of presentation in line with the motto "More Light". Since 2021, the permanently installed video mapping system has been in operation, with which large-format images can be projected onto the Ernst Abbe high-rise.
For the realization we thank not only the artist but also our partners who accompany and support the further development of our art engagement: JenaKultur, Galerie Huber & Treff for curating our exhibitions and the laser event company for the maintenance of the video mapping facility.
Read more about the video mapping technology and equipment in our blog article Video mapping for "More Light" in the city of lights, Jena.
Contact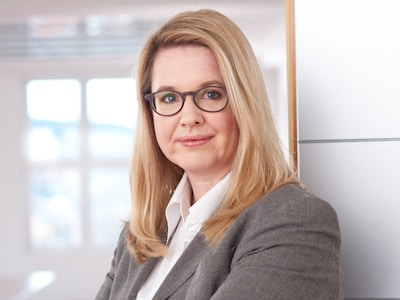 Katrin Lauterbach
Corporate Communications and Marketing