Jenoptik posts dynamic growth in fiscal year 2022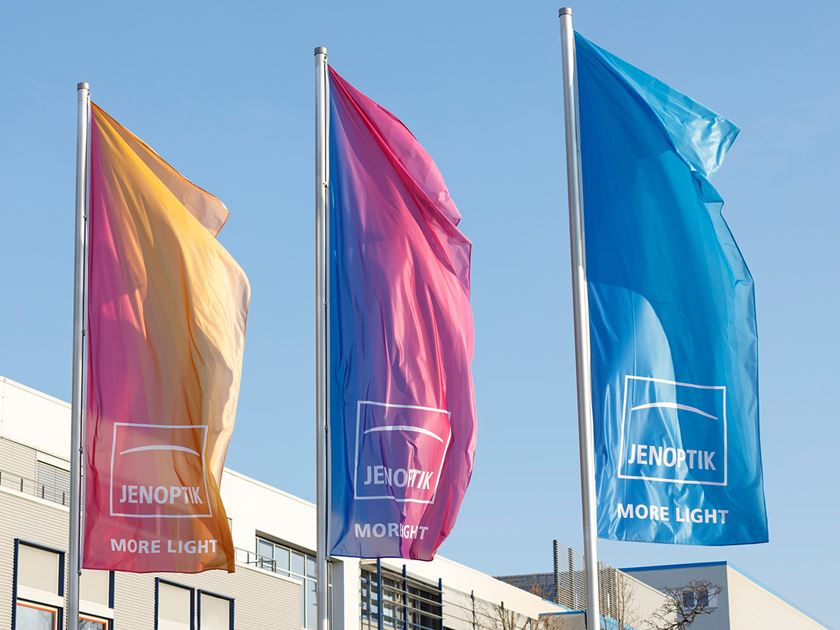 Revenue up by more than 30 percent to approx. 980 million euros; strong organic growth of around 11 percent
EBITDA grew to approx. 184 million euros; plus 47 percent on prior-year figure without one-off effect
Order intake up by around a quarter year-on-year
Guidance for 2023: further profitable growth expected
"In the challenging environment in fiscal year 2022, Jenoptik performed better than forecast at the beginning of the year. Both our existing business and the acquisition made in late 2021 contributed to this. Looking at our order intake and backlog, we expect further increases in revenue and earnings in the fiscal year 2023," says Stefan Traeger, President & CEO of JENOPTIK AG.
Revenue up by more than 30 percent – double-digit organic growth
The Jenoptik photonics group continued its profitable growth in the past fiscal year. On the basis of preliminary figures, revenue from continuing operations grew by more than 30 percent to around 980 million euros (prior year: 750.7 million euros). Organic growth was around 11 percent, primarily due to sustained strong demand in the Advanced Photonic Solutions division. The companies acquired in 2021, BG Medical and the SwissOptic Group, performed better than expected and contributed around 160 million euros to revenue.
EBITDA margin sharply up to around 18.8 percent
On a comparable basis, EBITDA again improved at a faster rate than revenue to around 184 million euros (prior year: 125.2 million euros, excluding one-off effect), due to an improved product mix and economies of scale. The corresponding EBITDA margin grew to around 18.8 percent, compared to 16.7 percent in the prior year.
In fiscal year 2022 EBIT from the continuing operations was impacted by a one-off expense of around 14 million euros. This non-cash impairment is attributable in particular to the reassessment of the business prospects of INTEROB. No further significant impact for future periods is expected in connection with INTEROB.
Key balance sheet and financial indicators remain at a very solid level
Jenoptik continues to enjoy a very good financial and balance sheet position. The equity ratio improved to around 50 percent (31/12/2021: 44.4 percent). Despite significantly higher capital expenditure, the free cash flow before interest and taxes from continuing operations increased from 43.2 million euros to around 83 million euros. The leverage, i.e., net debt relative to EBITDA amounted to 2.6.
Sustained strong demand – order intake well above 1 billion euros
The positive trend in demand continued in the 4th quarter of 2022. Both organically and due to the acquisition, the order intake in the past fiscal year grew by approx. 27 percent to around 1.185 million euros (prior year: 936.7 million euros). All divisions contributed to this growth, primarily the Advanced Photonic Solutions division. The order backlog, worth some 734 million euros, was at a very high level (31/12/2021: 543.5 million euros).
Guidance for 2023: further profitable growth expected
Based on the good order intake, the high order backlog, and ongoing good developments in the core photonics businesses, especially in the semiconductor equipment sector, the Executive Board of JENOPTIK AG is confident to achieve further profitable growth in the fiscal year 2023. Jenoptik is therefore anticipating revenue of 1,050 million euros to 1,100 million euros and an EBITDA margin of 19.0 to 19.5 percent for 2023. This forecast presupposes that geopolitical risks do not worsen. These include, for example, the Ukraine conflict – with the sanctions that have been put in place and potential impacts on price developments, energy supplies, and supply chains.
The final, audited figures for 2022 and the 2022 Annual Report will be published on March 29, 2023.
Figures at a glance
in million euros
2022
2021
change in %
Revenue
~980
750.7
>30
EBITDA
~184
155.7
ca. 18
EBITDA (excl. one-off effect 2021)
~184
125.2
ca. 47
EBITDA margin in % (excl. one-off effect 2021)
~18,8
16.7
Order intake
~1,185
936.7
ca. 27
This announcement can contain forward-looking statements that are based on current expectations and certain assumptions of the management of the Jenoptik Group. A variety of known and unknown risks, uncertainties and other factors can cause the actual results, the financial situation, the development or the performance of the company to be materially different from the announced forward-looking statements. Such factors can be, among others, geopolitical conflicts, pandemic diseases, changes in currency exchange rates and interest rates, the introduction of competing products or the change of the business strategy. The company does not assume any obligation to update such forward-looking statements in the light of future developments.
About Jenoptik
Optical technologies form the basis of our business. Jenoptik is a global photonics group and comprises the two divisions Advanced Photonic Solutions and Smart Mobility Solutions. The non-photonic activities, particularly for the automotive market, are managed as independent brands within the Non-Photonic Portfolio Companies. Our key target markets primarily include the semiconductor equipment industry, medical technology, automotive and mechanical engineering as well as traffic. Approximately 4,400 employees work for Jenoptik worldwide. The Group's headquarters are in Jena (Germany). JENOPTIK AG is listed on the German Stock Exchange in Frankfurt and is included in the SDax and TecDax. In the fiscal year 2022, Jenoptik generated revenue of around 980 million euros with its continuing operations.
Contact