RecommendFacebook Twitter LinkedIn
Jenoptik hands over more than 8,000 euros in donations to the parents' initiative for children with cancer in Jena
Jenoptik CFO Hans-Dieter Schumacher and Jenoptik Executive Board member Ralf Kuschnereit handed over the sum of exactly 8,120 euros to the Parents' Initiative for Children with Cancer in Jena (EKK) on February 23.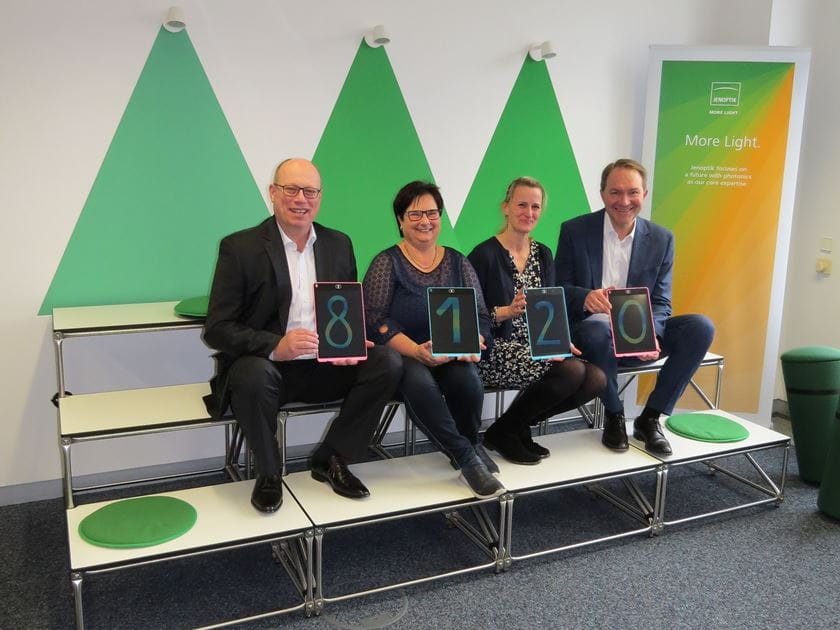 The money comes from two donation initiatives at Jenoptik: Firstly, it has been tradition that Jenoptik employees donate to the EKK association every year at Christmas time. Here, almost 7,000 euros were collected. The other part of the donation comes from the guests of the Jena Night of Science, from which Jenoptik donates the proceeds from the sale of drinks at the "Science Bars" that were open on November 25, 2022 in the Ernst Abbe high-rise and the Technology Center in Göschwitz.
"I am pleased that with this amount we can help to further expand the offer for the affected families. The parents' initiative has been an important part of my work here in Jena and I am pleased that the Jenoptik management will continue to actively support the association," said CFO Hans-Dieter Schumacher. He has been patron of the Elterninitiative für krebskranke Kinder Jena e.V. since the beginning of his tenure.
"We would especially like to thank the Jenoptik employees who participate in the major fundraising campaign every year," said Jenoptik Executive Board member Ralf Kuschnereit. After a break of two years, Jenoptik had welcomed almost 800 employees to a large site Christmas party in the new company restaurant in Jena-Göschwitz in December.
Katrin Mohrholz, Managing Director of EKK, expressed her thanks for the donation. The association will use the money to set up a discussion and play corner for outpatients in the immediate vicinity of the pediatric oncology outpatient clinic at the university hospital, which is intended to create a pleasant environment for parental discussions. Once the Jenoptik donation has been used, this area can then be used by parents and children to linger, play and talk.
Images are available for download from Jenoptik's image database, please see "Events".
Image, from left: CFO Hans-Dieter Schumacher, EKK Managing Director Katrin Mohrholz, Jenoptik MarCom employee Annekatrin Gebhardt, Executive Board member Ralf Kuschnereit.