RecommendMail Facebook Twitter LinkedIn
Ultra-fast opto-electronic probe card - UFO Probe™ Card
UFO Probe™ for wafer-level test of photonic integrated circuits (PICs)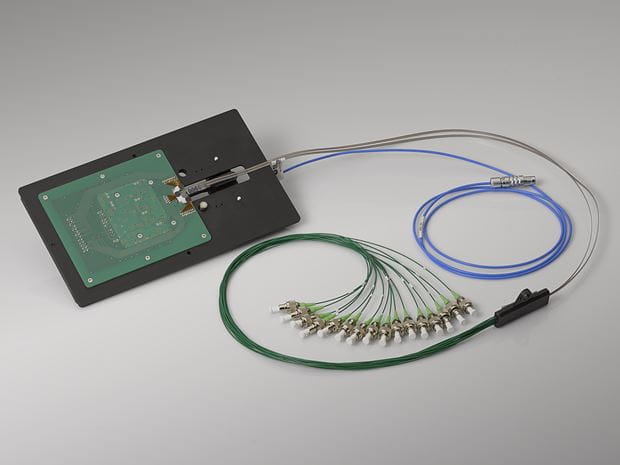 As a partner for the semiconductor equipment industry, as well as test providers and users, Jenoptik is offering a novel optical solution for integration into electrical test cards. The ultra-fast opto-electronic probe card or UFO Probe™ Card is used for functional testing on semiconductor chips with integrated optical functions, known as photonic integrated circuits (PICs).
Jenoptik's new UFO Probe™ technology targets the market for semiconductor equipment and processes for wafer-level testing in microelectronics. The technology is based on a concept for optical probing of photonic integrated circuits, which is insensitive to alignment tolerances in the wafer prober. As consequence, the opto-electronic probe card can be used with commercially available wafer probers and ensures an accordingly high throughput for testing photonic integrated circuits.
The new hybrid probe card combines electrical and optical tests in one solution. This allows multiple optical and electrical channels of a PIC or even several PICs to be tested in parallel, regardless of their arrangement, thus meeting the demand for opto-electronic tests for high-volume applications. The design of the probe card can be adapted to customer's specific requirements, such as individual PIC layout and specific test arrangement. The first series run has been successfully measured with this new technology.
Benefits for the customer
Utilization of existing test infrastructure, such as standard IC wafer prober and automatic test equipment by plug & play ready UFO Probe Card
Simple handling analog to electrical probe cards
Standard wafer prober interface applicable: e.g. Europe card format
Monolithic implementation of optical and electrical probes within a single probe card
No active alignment per single die
Parallel testing of several chips/ dies
Operated by same personnel as standard IC equipment
Applications in Semiconductor Manufacturing
Current UFO Probe™ technology specially designed for wafer-level test of photonic integrated circuits of optical transceivers
Further PIC-Applications: bio sensors, solid-state LIDAR, optical switches, optical quantum computing
Possible standardizing for Multi-Project-Wafer run and PCM structure testing
Adaptable to further wafer-level test applications, such as LEDs/ MicroLEDs, VCSEL, photo diodes and MEMS mirrors
Product Preview
Download
Wafer-Level PIC Testing
Do you have any questions? Our experts are happy to help.
Enrico Piechotka
Global Product Group Manager