RecommendMail Facebook Twitter LinkedIn
Jenoptik opens new medical technology site in Berlin
Together with the employees of the Berlin sites in Germany and guests, the photonics group Jenoptik today officially celebrated the completion of its new site on "Gross-Berliner Damm" in Berlin. In the new production facilities and state-of-the-art environment, more than 100 employees will develop and manufacture optical components and systems especially for dentistry (intraoral scanners) and robot-assisted surgery.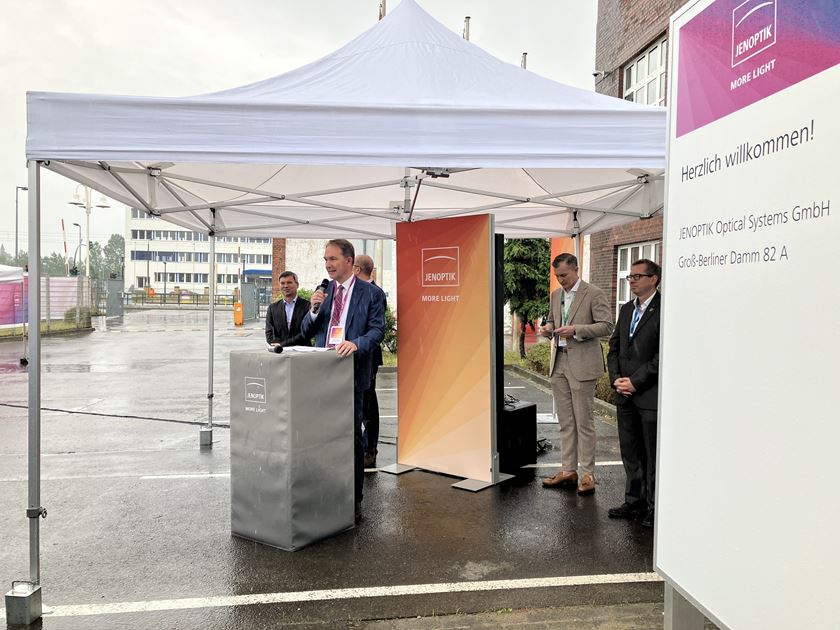 Over the past six months, Jenoptik has invested around 20 million euros in the new site on "Gross-Berliner Damm" in the Berlin district of Treptow-Koepenick. State-of-the-art space will be available, including more than 1,000 sqm of clean room production space and around 600 sqm of logistics space as well as office and recreation rooms. Additional space of approx. 600 sqm will be held in reserve for future growth.
"We are proud that we now have another location here in Berlin with state-of-the-art equipment and great growth potential in the Jenoptik Group. The life science & medical technology market, along with semiconductor & electronics and smart mobility, is one of the three photonics core markets on which we are focusing our future growth. Our colleagues in Berlin have shown much patience and flexibility over the past few months and have continued to drive the business and expand it. For this, I would like to thank them and the entire team, which completed the project in such a short time and under conditions that were not easy," said Dr. Stefan Traeger, President & CEO of JENOPTIK AG.
Berlin as an important location for Jenoptik's medical technology business
In November 2021, Jenoptik completed the acquisition of BG Medical, significantly strengthening its medical technology business. The Berlin-based company has been operating under the Jenoptik brand since the beginning of 2022 and has been integrated into Jenoptik's Advanced Photonic Solutions division. With its comprehensive expertise and product portfolio covering 3D imaging, laser and dental systems as well as visualization technologies for minimally invasive, robot-assisted surgery, it represents a significant part of the Jenoptik Group's medical technology business.
Jenoptik specializes in photonic technologies and systems and is a reliable and flexible partner for the development and production of life science and medical technology applications, among others. The focus here is on light sources and imaging systems for analytical applications in the life science sector (DNA sequencing, cell imaging, tissue and blood analysis) and diagnostic applications in medical technology. In addition, laser-based solutions for therapeutic applications are developed in the medical technology area, for example disk lasers for ophthalmology, diode lasers for aesthetic applications, systems for dentistry as well as minimally invasive and robot-assisted surgery.
Jenoptik has around 200 employees in Berlin
Semiconductor laser diodes, which are used as the core element of diode lasers in medical applications as well as in materials processing and metrology, are also manufactured in Berlin – at the Jenoptik fab in Berlin's Adlershof Science and Technology Park in the close vicinity of the new site that has now been completed. With the acquisition of optical metrology specialist TRIOPTICS, headquartered in Wedel near Hamburg, the Jenoptik Group added another Berlin location also in Adlershof in 2020. Jenoptik has a total of 200 employees at its three sites in Berlin, Germany.
Growth: Revenue from life science & medical technology to be around 25 percent of group revenue in 2025
Alongside semiconductor & electronics and smart mobility, the life science & medical technology market is one of the three photonics core markets on which Jenoptik is focusing with its Agenda 2025 "More Value". The life science & medical technology market is then expected to contribute around 25 percent to revenue (2022: around 14 percent).
First images are available in the Jenoptik image database under "Locations". More images will follow in the next few days.
Image: Opening speeches from Jenoptik management (pictured: Executive Board member Dr. Ralf Kuschnereit) and Berlin district mayor Oliver Igel in front of the new building.
About Jenoptik
Optical technologies form the basis of our business. Jenoptik is a global photonics group and comprises the two divisions Advanced Photonic Solutions and Smart Mobility Solutions. Non-photonic activities, particularly for the automotive market, are operated as independent brands within the Non-Photonic Portfolio Companies. Our key markets primarily include semiconductor & electronics, life science & medical technology as well as smart mobility. More than 4,400 people worldwide work for the Jenoptik Group, which is headquartered in Jena (Germany). JENOPTIK AG is listed on the German Stock Exchange in Frankfurt and traded on the MDax and TecDax. In fiscal year 2022, Jenoptik generated revenue of 980.7 million euros.