RecommendMail Facebook Twitter LinkedIn
Jenoptik remains main sponsor of "Imaginata" in Jena for another three years
Jenoptik and Imaginata Jena will continue their partnership. For another three years, Jenoptik will financially support the Jena "Experimentarium" as main sponsor. Jenoptik President & CEO Dr. Stefan Traeger and Heidrun Jänchen, board member of Imaginata, signed the sponsorship agreement on July 26, 2023.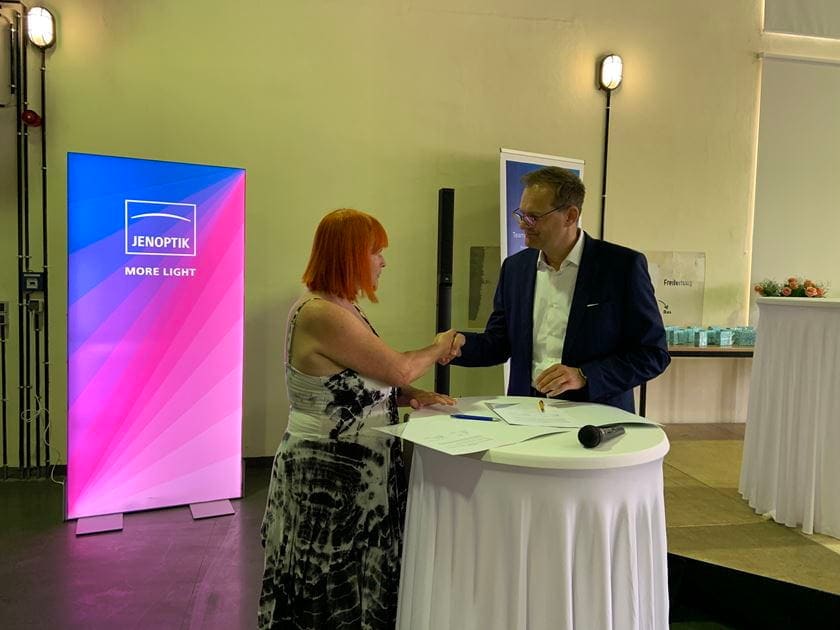 "Imaginata is a special place that impressively combines natural science education, culture, the spirit of research and modernity and has a great appeal beyond the city limits of Jena. These are precisely the topics that we, as a high-tech company and major employer in the region, promote and that make our main location so unique and attractive," says Stefan Traeger.
"Inflation is also getting to us as a non-profit organization," explains Heidrun Jänchen. "This makes us all the more appreciative to have a partner in Jenoptik that is committed to creative educational work unselfishly and out of conviction. Without this support, we would have had to cut back our offerings three years ago. This year, however, we are heading for a new record number of visitors."
The sponsorship, with a mid-five-figure sum per year, runs from 2024 to the end of 2026. In October 2020, Jenoptik and the Imaginata had first launched their partnership with a sponsorship agreement for an initial three years. Since 2020, the Imaginata has expanded its offering to include stations on environmental protection and new energy concepts, presenting these complex topics in the vivid and special Imaginata style.
"Without the reliable support of Jenoptik, we would not have been able to do this, especially against the backdrop of the Corona mandatory break," says Ramona Völkel, who with her team and many volunteers manages the approximately 14,000-square-meter building and outdoor complex in the north of the city of Jena in terms of experimental and experiential science education offerings as well as the diverse event formats.
"Jenoptik has found an exciting and suitable event environment for various corporate events in the Imaginata over the past two years," says Stefan Traeger. For example, the traditional Jenoptik New Year's reception 2023 was held for the first time in the Imaginata's station park.
The contract was signed in the presence of Jenoptik trainees, who experienced their "Apprentices' Day" at Imaginata this year.
Imaginata sees itself as an experimentarium for the senses, a place of learning, an advanced training laboratory, a monument, a science center, a concert hall and a gallery. It was founded in 1995 with natural science stations and events. Since 1999, it has been located in the former transformer station in Jena-Nord and has over 20,000 visitors a year, including many school classes, who explore science there in a playful way and with all their senses.
Since the company was founded more than 30 years ago, Jenoptik has been committed to social issues, not only at its headquarters in Jena, but also with a focus on education and science, in particular promoting young talent in the natural sciences and STEM subjects.
Images are available for download from the Jenoptik image database in the "Events" gallery.
About Jenoptik
Optical technologies form the basis of our business. Jenoptik is a global photonics group and comprises the two divisions Advanced Photonic Solutions and Smart Mobility Solutions. Non-photonic activities, particularly for the automotive market, are operated as independent brands within the Non-Photonic Portfolio Companies. Our key markets primarily include semiconductor & electronics, life science & medical technology as well as smart mobility. More than 4,400 people worldwide work for the Jenoptik Group, which is headquartered in Jena (Germany). JENOPTIK AG is listed on the German Stock Exchange in Frankfurt and traded on the MDax and TecDax. In fiscal year 2022, Jenoptik generated revenue of 980.7 million euros.