Jenoptik wins a "best award" at Blechexpo 2023
Jenoptik received an innovation award for its PSS-40/LCLW inspection station at the trade fair for sheet metal processing. The machine enables more efficient stamping production thanks to optical inspection with integrated laser processing.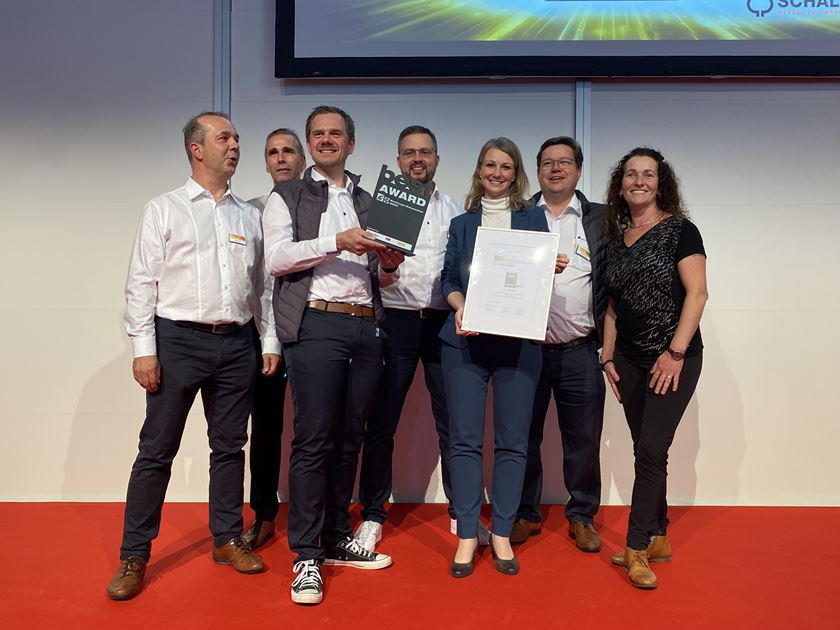 In Stuttgart, Germany, the photonics group Jenoptik presented the PSS-40/LCLW inspection and sorting station for the first time. It enables the automated optical inspection of punching strips and the uninterrupted removal of defective parts in just one system. For this purpose, Jenoptik had further developed its standard inspection cell PSS-40, which was already established on the market, and integrated fully automated laser cutting and laser welding into the inspection station.
For this innovation, the Jenoptik team from the "Optical Test and Measurement Solutions" business unit received the "best award" on the evening of November 7, 2023 at Blechexpo as one of five previously nominated companies in the category 4 Stamping Technologies. The "best award" was presented in a total of five categories by trade fair organizer Schall and the trade magazines Blechnet and MM Maschinenmarkt. The award honors the most innovative products, solutions and digitalization concepts of the trade fair duo Blechexpo and Schweisstec.
Find out more about the "all-in-one" inspection machine in our press release from November 2, 2023 and on the product web page.
Visit Jenoptik at the trade fair in Stuttgart until November 10 at the Jenoptik booth in hall 6, booth #6209.
Images are available for download in the Jenoptik image database.
About Jenoptik
Optical technologies form the basis of our business. Jenoptik is a global photonics group and comprises the two divisions Advanced Photonic Solutions and Smart Mobility Solutions. Non-photonic activities, particularly for the automotive market, are operated as independent brands within the Non-Photonic Portfolio Companies. Our key markets primarily include semiconductor & electronics, life science & medical technology as well as smart mobility. More than 4,400 people worldwide (fiscal year 2022) work for the Jenoptik Group, which is headquartered in Jena (Germany). JENOPTIK AG is listed on the German Stock Exchange in Frankfurt and traded on the MDax and TecDax. In fiscal year 2022, Jenoptik generated revenue of 980.7 million euros.