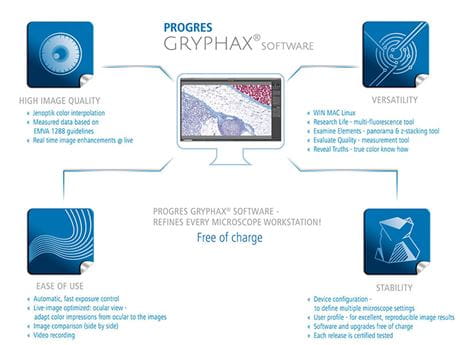 The user interface of the innovative JENOPTIK GRYPHAX® microscope camera software is structured and intuitive to learn. It is identical in Windows, MacOS and Linux operating systems, as are the functions, which means you can execute workflows in the same way on different PCs.
As soon as the software has been installed, you're ready to capture your first image.
Particularly noteworthy: Save time effectively! Optimize the quality of your live images in real time using the features and tools of the microscope camera software. Watch how your multi-focused image appears or see how your panoramic image (overview of the whole sample) is composed. Post-processing is hardly ever required, saving you time.
You will receive the PROGRES GRYPHAX® microscope camera software along with your camera order. Our free of charge software updates mean you will always be kept up-to-date. Our efficient JENOPTIK GRYPHAX® series components also provide you with a flexible means of upgrading your microscope workstation.
You want to increase the flexibility and application range of you microscope camera? Ask for our free of charge DijSDK to embed our JENOPTIK GRYPHAX® camera portfolio within the shortest time. Also specialized software solutions from our external software partners enable more versatility.
Benefits
High image quality: Jenoptik color interpolation, measured data based on EMVA 1288 guidelines, real time enhancements @ live image: sharpness, noise reduction, dynamic, white shading, colors balance, contrast saturation.
Versatility: WIN MAC Linux, Research Life – with free multi-fluorescence tool, Examine Elements – with free panorama & z-stacking tool, Evaluate Quality – with free measurements & annotation tools, Reveal Truths – get best color reproduction based on measurements and true color know how.
Ease of use: Connect the camera, launch software and start recording data, automatic, fast exposure control, live-image optimized: panorama, z-stacking, multi-fluorescence, image comparison (side by side) & video recording and live-image optimized: ocular view - adapt color impressions from ocular to the images.
Stability: Device configuration - to define multiple microscope settings, user profile - for excellent, reproducible image results and continuously and free software upgrades.
Fields of Application
Research Life - Life sciences: Medicine, pathology, hematology, cytology, genetics, biology and chemistry.
Evaluate Quality – Quality control: Grain analysis, welded seam testing and controlling manufacturing processes.
Examine Elements - Material science: Mineralogy and metallography — for use in determining structures, quantitative and qualitative sample analyses and documentation.
Reveal Truth - Forensics: Securing of evidence, document examination and forensic medicine.
Software Download
The JENOPTIK GRYPHAX® Software package is included in the scope of delivery.
Registered users may
download
the current version as well as more recent updates without charge.
Product recommendation - Explore your micro universe with:
FAQ´s
Do you have any questions? Please contact us for advice.
Sales & Support - Microscope Camera
+49 3641 65-4143
+49 3641 65-2144
International distributors: