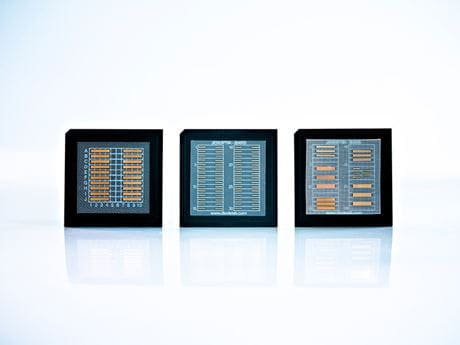 Product feature
Wavelength: 760 - 1060nm
Output power: 6 - 500W
Operation mode: CW / QCW
Filling factor: - - 75%
Resonator length: 0.6 - 4.0mm
We produce our semiconductor materials under the strictest quality controls. We work only with state-of-the-art epitaxy, processing and facet coating technology. Our bars, semi-bars and single emitters for high-power diode lasers therefore meet the most exacting demands: They are extremely reliable, efficient and durable.
Our semiconductor products are easily assembled using standard soldering methods. The material supports both soft solder (indium) and hard solder (gold/tin). We deliver our laser bars to you with emitter structures separated on the p-side as standard. On request, we can also produce bars with continuous p-side metalization and adapted facet coatings, using low AR coatings for the assembly of external resonators.
Benefits
Highest quality: We strictly monitor the production of our semiconductor products in clearly defined processes.
Powerful: High, reliable output power and ideal beam characteristics.
Economical: Our semiconductors are very efficient and are characterized by a long service life.
Fields of Application
Industry: Semiconductors for high-power diode lasers in direct material processing, for heating or lighting. Semiconductors as pumping sources for fiber and solid-state lasers. Use in printing technology.
Medicine: Esthetics, dermatology and surgery.
Technical Specifications
InGaAs-based semiconductors
Optical output power: 6watts to 200watts cw and 500watts qcw
Standard wavelengths: 760 to 1060nanometers (others available on request)
Fill factors: 10%, 20%, 30%, 50%, 75% (others available on request)
Resonator lengths: 0.6mm, 1.0mm, 1.5mm, 2.0mm, 4.0mm (others available on request)
Optional: low AR coating (typically < 0.3%)
Optional: continuous metalization