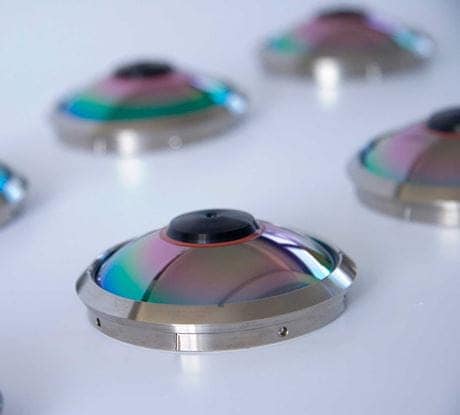 Infrared coatings protect your surfaces and are ideal for materials with specific, complex properties. We offer a wide range of infrared optical coatings in the wavelength range from λ1.5 to 20 micrometers. They are characterized by their high quality, durability and robustness, and can easily withstand even the harshest environmental conditions. They are also completely free of radioactive materials.
Jenoptik provides the following standard coatings:
In addition to the standard IR coatings, we can also provide custom solutions matching your specifications. We regularly control the quality of our coatings. We also work with an independent testing and calibration laboratory to qualify our optical components. We have extensive experience of the various test methods and will select the procedure most appropriate to your application. Testing is performed on the basis of all relevant DIN, IEC, EN and MIL standards, while the coatings themselves comply with the strict requirements of the standards MIL-C-48497 and MIL-F-48616.
The following tests – or combinations thereof – are possible:
Optical parameter inspection: interferometric testing; aspheric testing with CGHs; transmission measurement up to temperatures of 95 K; MTF measurement in temperature range from 233 K to 333 K; wiper test for front faces with DLC coatings (based on TS1888).
Testing for climatic stability subject to changes in temperature and humidity as well as temperature shock: determination of temperature and climate boundaries; realization of thermal stress parameters.
Shock and vibration testing
Benefits
Long-term stability: totally reliable
Robust: able to withstand even the toughest environmental conditions
Safe: free from radioactive materials
Tested: regular transmission, reflection and durability tests
Customer-specific: adapted to your individual requirements
Fields of Application
Security technology: process and building monitoring, filters for gas analysis, mining, alcohol measurement, building technology
Environmental technology: NDIR gas analysis/gas sensors for biogas analysis, greenhouse gas analysis or emission monitoring
Medical technology: NDIR gas analysis for patient and anesthesia monitoring
Agriculture: biogas plants, quality control
Flame detection: pyroelectric detectors
IR spectroscopy: chemical analyses, e.g. of alcohol, sugar and water content
DLC and hybrid-DLC coatings for highly durable surfaces
Diamond-like carbon (DLC) layers reliably protect your infrared optical systems against the harshest environmental conditions. These coatings are highly robust and resilient.
Hybrid-DLC layers combine the benefits of classic DLC layers with the functionality of multispectral IR coatings. To safeguard the quality of diamond-like carbon layers in the long term, we subject them to regular testing in line with the directive TS 1888 P5.4.3. With hybrid-DLC coatings, you can better suppress interfering reflections than with standard DLC layers.
Hermetically solderable freeform filters
Hermetically solderable IR components are suitable for use in extreme temperatures and are characterized by their long-term stability, high quality and excellent precision. The freeform filters, windows and cover plates can be manufactured using cost-effective wafer technology, thus enabling the production of large quantities. Thanks to the free form, you can perfectly adapt the components to the detector/emitter base area.



Product recommendations
Components
Do you have any questions? Our experts are happy to help.