RecommendMail Facebook LinkedIn
Microoptical and Optical Precision Components: Use Light for Measurement, Analysis, Structuring and Processing with a High Level of Reliability
Jenoptik offers precision optical components made from a variety of optical materials, in various shapes and with numerous coatings, to cover the entire optical spectral range — tailored to suit your applications.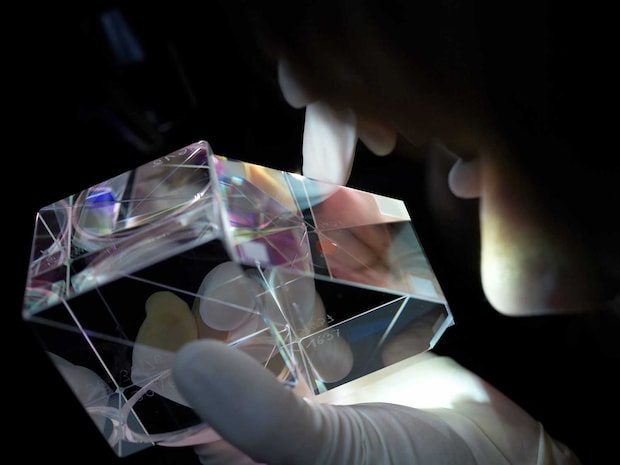 Customer-specific products, from the prototype through to series production: We count high-precision optical elements and optical thin film elements as some of our core areas of technological expertise.
Jenoptik is one of few providers worldwide to manufacture precision optics in virtually any optical material. These materials include optical glasses, glass ceramics and crystals, as well as modern and lightweight polymers.
Wide Range of Functions with Minimal Light Loss
Our high-precision optics, microoptics and systems are ideal for measuring, analyzing, structuring and processing applications that use light. Available in a wide range of shapes and with various coatings in the spectral range from VUV to FIR, these components are tailored with precision to suit your specific applications.
We offer:
Precision components from Jenoptik can be put to efficient and reliable use in complex and diverse applications, such as in the fields of laser material processing, medical technology and biotechnology, in the semiconductor market and in defense and security applications.
Benefits
Efficient: Use light for measurement, analysis, structuring and processing
Customer-specific: Optics are tailored to suit your complex applications
Vertical integration: High-precision optical components made from almost any optical material
Effective: Cover the entire optical spectral range from VUV to FIR
Complete technology chain: Jenoptik designs, develops, manufactures and assembles all products
Tested: We perform product and feasibility studies
Fields of Application
Laser material processing: Precision optical components for processing materials and shaping and splitting light
Biotechnology and medical technology: Precision optics for prevention, diagnostics and therapy
Defense and security: Complex optics and systems for a wide range of security and defense applications
Semiconductor market: Precision components to equip the semiconductor industry
Laser radar applications: Distance and speed measurement using laser beams
Precision Optical Components at a Glance:
Please contact our experts for advice.